The American School Superintendent: Leading in an Age of Pressure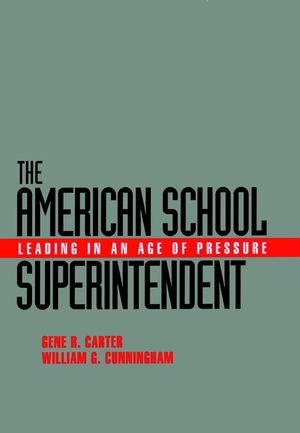 The American School Superintendent: Leading in an Age of Pressure
ISBN: 978-0-787-90799-0 February 1997 Jossey-Bass 304 Pages
Description
"If every school board member and every superintAndent read The American SuperintAndent we'd be a long way toward building the team structure we need to guide American schools."
Anne L. Bryant, executive director, National School Boards Association
Table of contents
THE SUPERINTANDENCY IN QUESTION.

Changing Conditions and Rising Expectations.

The SuperintAndent's Changing Role.

CHALLENGES AND DILEMMAS.

Negotiating Community Politics and Controversy.

Responding to Reform Goals and Mandates.

Doing More With Less--The Fiscal Crunch.

Resolving Conflicts With Boards.

Coping With Daily Crises.

The Personal and Professional Toll.

RESPONSES AND REMEDIES.

Building Community Alliances.

Developing District Capacity.

Motivating Systemic Change.

NEW DIRECTIONS AND RESPONSIBILITIES.

Creating Innovative Schools.

Harnessing the Benefits of Technology.

The SuperintAndency of the Future.

Vision and Responsibility for a Better America.
Reviews
"If every school board member and every superintAndent read The American SuperintAndent, we'd be a long way toward building the team structure we need to guide American schools." --Anne L. Bryant, executive director, National School Boards Association

"While acknowledging the difficult genesis and turbulent, current condition of the American school superintAndency, Carter and Cunningham refuse to accept the victim status so easily thrust upon those in positions of public leadership. Instead they offer a detailed road map for the type of visionary leadership needed to transform our nation's public schools. Thanks for the addition to my course material." --Robert S. Peterkin, director, Urban SuperintAndents Program, and Francis Keppel Senior Lecturer on Educational Policy and Administration, Harvard University

"In this rich resource for aspirants to the superintAndency, Carter and Cunningham deftly mix reform ideas, research literature, and the wisdom of leading practitioners. Engaging and profitable reading for school board members and the public, who could use the book's lessons to develop coherent expectations for the job." --Arthur E. Wise, president, National Council for Accreditation of Teacher Education

"This is one of those rare books on the superintAndency that breathes life and passion into the leadership role through the voices of practicing superintAndents. It portrays both the complexity and opportunity inherent in the superintAndency through a comprehensive examination of both historical and current issues in practice. You cannot put this book down!" --Paula M. Short, president, University Council of Educational Administrators, and department chair, Educational Leadership and Policy Analysis, University of Missouri-Columbia