The Analytical and Numerical Solution of Electric and Magnetic Fields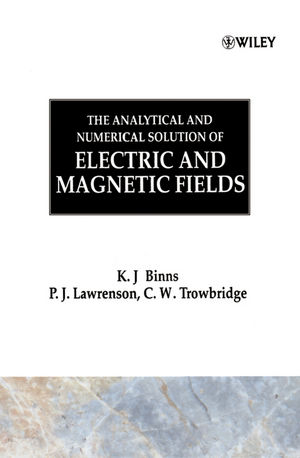 The Analytical and Numerical Solution of Electric and Magnetic Fields
ISBN: 978-0-471-92460-9
Jan 1993
486 pages
Description
Designed for accessibility to students, researchers and design and development workers, it discusses the full range of classical and modern methods for the solution of electric, magnetic, some thermal and other similar fields. It deals with 1, 2 and 3 space dimensions, with linear, non-linear and anisotropic media as well as static and ``low''-frequency time variation. Numerous examples, detailing the physical significance of the mathematics and the practical considerations involved in implementing the solutions, make this a very hands-on working reference.
Basic Field Theory.

Images.

The Solution of Laplace's Equation by Separation of the Variables.

Fields with Distributed Currents: Poisson and Diffusion Equations.

Conformal Transformation: Basic Ideas.

Polygonal Boundaries.

General Considerations.

Computational Modeling--Basic Methods.

Two-Dimensional Static Linear Problems.

Non-Linear Effects in Two-Dimensional Fields.

Two-Dimensional Time-Dependent Fields.

Three-Dimensional Problems.

Electromagnetic Software Environment.

Appendices.

Bibliography.

Index.