The Anthropology of Economy: Community, Market, and Culture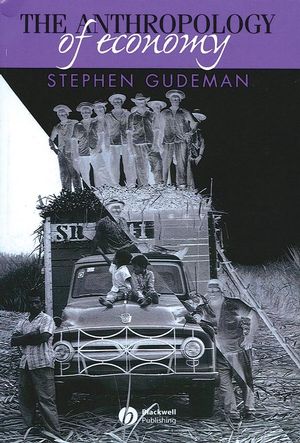 The Anthropology of Economy: Community, Market, and Culture
ISBN: 978-0-631-22567-6 October 2001 Wiley-Blackwell 198 Pages
Description
Recent, dramatic changes in local and global economies have profoundly affected the lives of millions and have demanded that students of economy rethink their analytical approaches. In The Anthropology of Economy, noted anthropologist Steve Gudeman presents a model and lexicon for thinking about and discussing "things economic."
Table of contents
Acknowledgments.
1. Community, Market, and Culture.
2. Economy at the Base.
3. Sharing the Base.
4. The Great Estate: Power, Extraction, and Expansion.
5. Reciprocity and the Gift: Extending the Base.
6. Trade and Profit.
7. Profit on the Small.
8. Realms and Dialectics: Values in Production, Trade, and Use.
9. Political Economy Today.
References.
Index.
Reviews
"This is the first book to propose a cross-cultural model of the economy inspired by anthropology. Gudeman succeeds magnificently in weaving the results of decades of anthropology into an original synthesis."
Caroline Humphrey, University of Cambridge
<!--end-->
"A stimulating rethinking of anthropology's contribution to our understanding of economics. Clear and original, this highly readable book will disturb many people's habits of thought as well as expand & enrich them. In it, Gudeman shows how the economy is embedded in human life and society, and how it builds on community and the commons, as much as on individuality and the market. A signal contribution." Fredrik Barth, University of Oslo and Boston University

"Given the clarity of the prose and the accessibility of the ideas, this book would make for an excellent textbook for an economic anthropology class. Indeed, it is hard to think of a textbook that compares. But the book is much more than this. It is clearly intended as a liberating framework within which anthropologists and fieldworkers can rethink economic issues in a much broader way." The Australian Journal of Anthropology

"This is an important work, synthesizing a substantial body of anthropological and economic thought into a coherent whole." James G. Carrier, Journal of the Royal Anthropological Institute
Features


Using an anthropological perspective, offers a new comparative model of economy.



Demonstrates how all economies are made up of both markets & communal life.



Using 60-70 examples from historical and contemporary cross-cultural contexts, shows how financial profit and capital are dependent on social relationships.


Argues that reciprocity is the result of community-not its foundation.