The Anthropology of Media: A Reader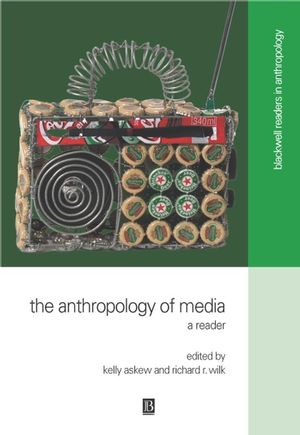 The Anthropology of Media: A Reader
ISBN: 978-0-631-22094-7
Feb 2002, Wiley-Blackwell
432 pages
Description
The Anthropology of Media: A Reader
Brings together key writings in the emergent field of the anthropology of media for the first time
Integrates key themes in the anthropology of media by means of editorial commentary
Explores the theoretical issues that have arisen from ethnographic studies of media
offers a critical overview of how mass media represents and constructs both Western and non-Western cultures. Moving beyond earlier anthropological preoccupation with ethnographic film and drawing on the recent explosion of creative studies of culture and media, this volume heralds the emergence of a new field – the anthropology of media – and brings its key literature together for the first time.

Acknowledgments.
Timeline of Media Development.
Introduction: Kelly Askew and Richard R. Wilk.
Part I: Seeing/Hearing is Believing: Technology and Truth:.
1. The Medium is the Message: Marshall McLuhan.
2. The Technology and the Society: Raymond Williams..
3. Mead and Bateson Debate: On the Use of the Camera in Anthropology: Margaret Mead and Gregory Bateson.
4. The Ambiguity of the Photograph: John Berger.
5. Save, Save the Lore!: Erika Brady.
Part II: Representing Others:.
6. The Gaze of Western Humanism: James C. Faris.
7. The Color of Sex: Postwar Photographic Histories of Race and Gender: Catherine Lutz and Jane Collins.
8. The Imperial Imaginary: Ella Shohat and Robert Stam.
9. Complicities of Style: Dave MacDougall.
Part III: Representing Selves:.
10. Hollywood and the USA: Hortense Powdermaker.
11. Yoruba Photography: How the Yoruba See Themselves: Stephen F. Sprague.
12. Relationships: Daniel Miller and Don Slater.
13. Mediating Culture: Indigenous Media, Ethnographic Film, and the Production of Identity: Faye Ginsburg.
Part IV: Active Audiences:.
14. Radio Texture: Between Self and Others: Jo Taachi.
15. The Tongan Tradition of Going to the Movies: Elizabeth Hahn.
16. Rambo's Wife Saves the Day: Subjugating the Gaze and Subverting the Narrative in a Papua New Guinean Swamp: Don Kulick and Margaret Willson.
17. 'It's Destroying a Whole Generation': Television and Moral Discourse in Belize: Rick Wilk.
18. National Texts and Gendered Lives: An Ethnography of Television Viewers in a North Indian City: Purnima Mankekar.
Part V: Power, Colonialism, Nationalism:.
19. Image-Based Culture: Advertising and Popular Culture: Sut Jhally.
20. The Global and the Local in International Communications: Annabelle Sreberny-Mohammadi.
21. In Rascally Signs in Sacred Places: The Politics of Culture in Nicaragua: David E Whisnant.
22. The Objects of Soap Opera: Egyptian Television and the Cultural Politics of Modernity: Lila Abu-Lughod.
Resource Bibliography.
Index.
"In its bold presentation of an emergent subfield – anthropology of media – this comprehensive collection is a timely resource for students and others interested in cross-cultural research on mass communication. Destined to become a standard text, it explores a wide range of theoretical ideas and spotlights fascinating case studies. Highly recommended!"
Harald E. L. Prins, Society for Visual Anthropology (1999–2001)
<!--end-->
"Provides a unique collection of classic and vanguard, theoretical and substantive studies that demonstrates the centrality of anthropology to contemporary media studies. By a judicious selection of fascinating papers this volume is able to go beyond any single study to reveal the many different ways an anthropology sensitive to political and economic environments can investigate the production, consumption, and consequences of media by creators and users. As such it makes the ideal foundation for teaching a subject that has now clearly come into its own." Daniel Miller, University College London


Brings together key writings in the emergent field of the anthropology of media for the first time.

Offers critical overview of how mass media represents and constructs both Western and non-Western cultures.

Integrates key themes in the anthropology of media by means of editorial commentary.

Explores the theoretical issues that have arisen from ethnographic studies of media.