The Anthropology of Politics: A Reader in Ethnography, Theory, and Critique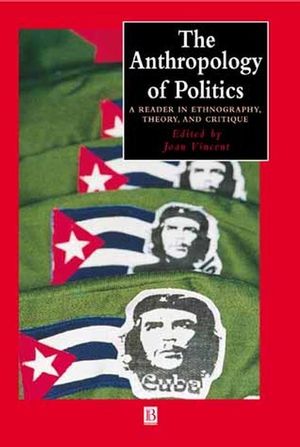 The Anthropology of Politics: A Reader in Ethnography, Theory, and Critique
ISBN: 978-0-631-22440-2 February 2002 Wiley-Blackwell 488 Pages
Download Product Flyer
Download Product Flyer
Download Product Flyer is to download PDF in new tab. This is a dummy description. Download Product Flyer is to download PDF in new tab. This is a dummy description. Download Product Flyer is to download PDF in new tab. This is a dummy description. Download Product Flyer is to download PDF in new tab. This is a dummy description.
Description
In The Anthropology of Politics: A Reader in Ethnography, Theory and Critique, editor Joan Vincent offers her readers a selection of classic and contemporary articles on the anthropology of politics. Her introduction, headnotes, and suggested readings make this an indispensable resource for students, scholars, and instructors alike.
Cannot be combined with any other offers.
Original Price:$117.50
Purchased together:$88.13
save $29.37
Table of contents
Acknowledgements.
Introduction (Joan Vincent).
Part I: Prelude: The Enlightenment and its Challenges.
Introduction.
Adam Ferguson, Civil Society (1767).
Adam Smith, Free-Market Policies (1776).
Immanuel Kant, Perpetual Peace (1795), Universal History with Cosmopolitan Purpose (1784), and Anthropology from a Pragmatic Point of View (1797).
Henry Sumner Maine, The Effects of the Observation of India on European Thought (1887).
Lewis Henry Morgan, The Property Career of Mankind (1877).
Karl Marx, Spectres outside the Domain of Political Economy (1844).
Karl Marx and Friedrich Engels, The World Market (1847).
James Mooney, The Dream of a Redeemer (1896).
Part II: Classics and Classics Revisited.
Introduction.
1. Nuer Politics: Structure and System (1940) (E.E. Evans-Pritchard).
2. Nuer Ethnicity Militarized (Sharon Elaine Hutchinson).
3. "The Bridge":Analysis of a Social Situation in Zululand (Max Gluckman).
4. "The Bridge" Revisited (Ronald Frankenberg).
5. Market Model, Class Structure and Consent: A Reconsideration of Swat Political Organization (Talal Asad).
6. The Troubles of Ranhamy Ge Punchirala (E. R. Leach).
7. Stratagems and Spoils (F. G. Bailey).
8. Passages, Margins, and Poverty: Religious Symbols of Communitas (Victor W. Turner).
9. Political Anthropology (Marc J. Swartz, Victor W. Turner, and Arthur Tuden).
10. New Proposals for Anthropologists (Kathleen Gough).
11. National Liberation (Eric R. Wolf).
Part III: Imperial Times, Colonial Places.
Introduction.
12. From the History of Colonial Anthropology to the Anthropology of Western Hegemony (Talal Asad).
13. East of Said (Richard G. Fox).
14. Perceptions of Protest: Defining the Dangerous in Colonial Sumatra (Ann Stoler).
15. Culture of Terror – Space of Death (Michael Taussig).
16. Images of the Peasant in the Consciousness of the Venezuelan Proletariat (William Roseberry).
17. Of Revelation and Revolution (Jean and John Comaroff).
18. Between Speech and Silence (Susan Gal).
19. Facing Power – Old Insights, New Questions (Eric R. Wolf).
20. Ethnographic Aspects of The World Capitalist System (June Nash).
Part IV: Cosmopolitics: Confronting a New Millennium.
Introduction.
21. The New World Disorder: (Benedict Anderson).
22. Grassroots Globalization and the Research Imagination (Arjun Appadurai).
23. Transnationalization, Socio-political Disorder, and Ethnification as Expressions of Declining Global Hegemony (Jonathan Friedman).
24. Deadly Developments and Phantasmagoric Representations (S. P. Reyna).
25. Modernity at the Edge of Empire (David Nugent).
26. Politics on the Periphery (Anna Lowenhaupt Tsing).
27. Flexible Citizenship among Chinese Cosmopolitans (Aihwa Ong).
28. Long-distance Nationalism Defined (Nina Glick Schiller and Georges Fouron).
29. Theorizing Socialism: A Prologue to the "Transition" (Katherine Verdery).
30. Marx Went Away but Karl Stayed Behind (Caroline Humphrey).
31. The Anti-politics Machine (James Ferguson).
32. Peasants against Globalization (Marc Edelman).
33. On Suffering and Structural Violence: A View from Below (Paul Farmer).
34. Anthropology and Politics: Commitment, Responsibility and the Academy (John Gledhill).
35. Thinking Academic Freedom in Gendered Post-coloniality (Gayatri Chakravorty Spivak).
Index.
Features


Includes a wide range of classic and contemporary articles.


Provides a sweeping introduction that offers a distinctive historical overview of the relationship between politics and anthropology.


Features editorial commentary that integrates key themes and suggestions for additional readings.