The Arc of Ambition: Defining the Leadership Journey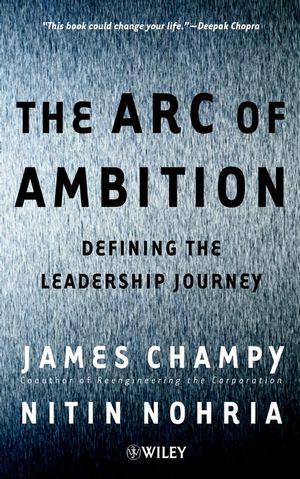 The Arc of Ambition: Defining the Leadership Journey
ISBN: 978-0-471-53020-6
Aug 2001
284 pages
Description
The Arc of Ambition is aimed at all those who dream of achieving greatness in any field. It is a handbook of lessons derived from the lives of great achievers past and present. The principles of this book come not from conventional psychology (clinical or theoretical) but from life experiences. They are derived from the authors long observation of ambitious people, both past and present in all walks of life.
The Arc of Ambition takes us on a journey through the creative process that transforms dreams into reality. Showcasing the life-changing experiences of dozens of contemporary and historical figures from the worlds of business, politics, science and the arts, The Arc of Ambition is an inspirational and practical guide to harnessing your ambition in order to live up to your highest potential and leave a legacy of accomplishment.
Without ambition, no conquests are made, no lands discovered, no businesses created.

Talent hits a target no one else can hit; genius hits a target no one else can see.

It takes a strong character and a lot of willpower to hold onto a dream under adverse circumstances.

Opportunity knocks with all the temerity of a brown trout hiding in an overfished stream.

History is a long list of warnings about the folly of overreaching.

Greatness must be driven by a purpose beyond money.

Compromise is bad for ambition.

Power comes from other people.

Reinvention is the key to longevity.

The dead can't lead the living.
"Champy takes us on a marvellous wander through history and contemporary life...This is fascinating stuff. This is entertainment that different people will take different lessons from." (Computing, 23rd February 2001)

"A practical study of achievement." (People Management, March 2001)

"I can recommend The Arc of Ambition..... There is something for everything in the work and this helps to make the book a highly entertaining read." (Pipeline, May 2001)

"Few will fail to find something of value in this very readable book." (Supply Management, 10th May 2001)

"In a market saturated with leadership books Mr Champy and Mr Nohria have taken a new tack, choosing to examine the motivation of people who have a desire to lead. Mr Champy says the arc is an ideal model because it recognises that careers will peak at some point, then fall back." (Financial Times, 13th June 2001)