The Archaeology of Mediterranean Prehistory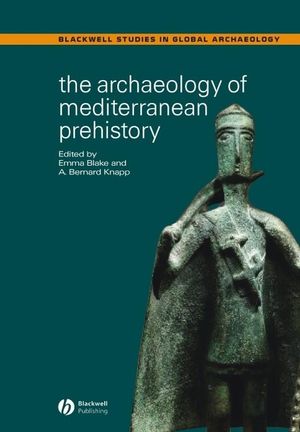 The Archaeology of Mediterranean Prehistory
ISBN: 978-0-470-77353-6 February 2008 Wiley-Blackwell 352 Pages
Description
This book offers a comprehensive introduction to the archaeology of Mediterranean prehistory and an essential reference to the most recent research and fieldwork.



Only book available to offer general coverage of Mediterranean prehistory

Written by 14 of the leading archaeologists in the field

Spans the Neolithic through the Iron Age, and draws from all the major regions of the Mediterranean's coast and islands

Presents the central debates in Mediterranean prehistory---trade and interaction, rural economies, ritual, social structure, gender, monumentality, insularity, archaeometallurgy and the metals trade, stone technologies, settlement, and maritime traffic---as well as contemporary legacies of the region's prehistoric past

Structure of text is pedagogically driven

Engages diverse theoretical approaches so students will see the benefits of multivocality
List of Figures.
List of Tables.
Notes on Contributors.
Acknowledgments.
1. Prehistory in the Mediterranean: The Corrupting and Connecting Sea: A. Bernard Knapp and Emma Blake (University of Glasgow; University of Michigan).
2. Substances in Motion: Neolithic Mediterranean 'Trade': John E. Robb and R. Helen Farr (both University of Cambridge).
3. Agriculture, Pastoralism, and Mediterranean Landscapes in Prehistory: Graeme Barker (University of Cambridge).
4. Changing Social Relations in the Mediterranean Copper and Bronze Ages: Robert Chapman (University of Reading).
5. The Material Expression of Cult, Ritual, and Feasting: Emma Blake (University of Michigan).
6. The Gendered Sea: Iconography, Gender, and Mediterranean Prehistory: Lauren E. Talalay (University of Michigan).
7. The Genesis of Monuments among the Mediterranean Islands: Michael J. Kolb (Northern Illinois University).
8. Lithic Technologies and Use: Evagelia Karimali (Institute for Mediterranean Studies, Hellas, Greece).
9. Archaeometallurgy in the Mediterranean: The Social Context of Mining, Technology, and Trade: Vasiliki Kassianidou and A. Bernard Knapp (University of Cyprus; University of Glasgow).
10. Settlement in the Prehistoric Mediterranean: Luke Sollars (University of Glasgow).
11. Maritime Commerce and Geographies of Mobility in the Late Bronze Age of the Eastern Mediterranean: Problematizations: Sturt W. Manning and Linda Hulin (University of Toronto; University of Reading).
12. Museum Archaeology and the Mediterranean Cultural Heritage: Robin Skeates (University of Durham).
Index
"This remarkable book does precisely what its title suggests: it provides an account of the archaeology of Mediterranean prehistory that treats the Mediterranean as a single unit. A galaxy of prominent prehistorians traces themes and topics from the Levant to Spain, enabling the reader to acquire a sense of the shape of prehistory across the whole of this extraordinary space."
Robin Osborne, University of Cambridge
"Blake and Knapp's volume demonstrates that new approaches to the Mediterranean, taking as central concerns the nature of culture and cultural heritage, are breathing new life into studies of that region." Chris Gosden, University of Oxford


Only book available to offer general coverage of Mediterranean prehistory

Written by 14 of the leading archaeologists in the field

Spans the Neolithic through the Iron Age, and draws from all the major regions of the Mediterranean's coast and islands

Presents the central debates in Mediterranean prehistory---trade and interaction, rural economies, ritual, social structure, gender, monumentality, insularity, archaeometallurgy and the metals trade, stone technologies, settlement, and maritime traffic---as well as contemporary legacies of the region's prehistoric past

Structure of text is pedagogically driven

Engages diverse theoretical approaches so students will see the benefits of multivocality