The Architecture Student's Handbook of Professional Practice, 14th Edition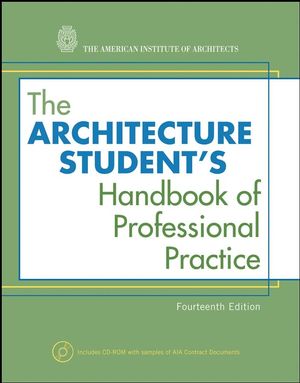 The Architecture Student's Handbook of Professional Practice, 14th Edition
ISBN: 978-0-470-08869-2
Oct 2008
720 pages
Product not available for purchase
Description
Written by The American Institute of Architects, this is the definitive textbook on practice issues written specifically for architecture students. Specifically written for emerging architects, this is the first unabbreviated guide specifically for architecture students about to begin their careers. It is required reading in a professional practice course that architecture students must take within their final two years of school.
Foreword: Thom Mayne.
Acknowledgments.
About the Student Handbook.
PART 1: THE PROFESSION.
1. Professional Life.
1.1 Architecture as a Profession.
1.2 Ethics and Professional Conduct.
AIA Code of Ethics.
1.3 Leadership as a Vocation .
1.4 Participating in Professional Organizations.
2. Legal Dimensions of Practice.
2.1 Architects and the Law.
Copyright and Intellectual Property in the Digital Age.
2.2 Regulation of Professional Practice.
Mandatory Continuing Education.
3. Professional Development.
3.1 Developing Leadership Skills.
3.2 Mastering Communications.
PART 2: PRACTICE.
4. Developing a Practice.
4.1 Starting an Architecture Firm.
4.2 Firm Legal Structure.
4.3 Firm Identity and Expertise.
Establishing a Niche Practice .
4.4 Team Building.
4.5 Marketing Planning and Strategy .
4.6 How Clients Select Architects.
5. Running a Practice.
5.1 Financial Planning.
5.2 Financial Management Systems.
Computerized Financial Systems.
5.3 Maintaining Financial Health.
5.4 Risk Management Strategies.
How to Use Risk Assessment Matrixes.
5.5 Insurance Coverage.
5.6 Managing and Avoiding Disputes.
5.7 Information Management.
5.8 Computer Technology in Practice.
Building Information Modeling.
PART 3: THE PROJECT.
6. Project Definition.
6.1 Defining Project Services.
6.2 Architectural Services and Compensation.
6.3 Programming.
6.4 Analysis and Research.
6.5 Evidence-Based Design.
6.6 Integrated vs. Traditional Practice.
7. Project Development.
7.1 Sustainable Design.
7.2 Environmentally Preferable Product Selection.
7.3 Design Phases.
7.4 Value Analysis.
7.5 Life Cycle Costing.
8. Project Delivery.
8.1 Project Delivery Methods.
Construction Management.
Design-Build Project Delivery.
8.2 Integrated Project Delivery.
8.3 Construction Documentation.
The U.S. National CAD Standard .
AIA MASTERSPEC.
8.4 Bidding or Negotiation Phase.
8.5 Construction Contract Administration.
9. Project Management.
9.1 The Effective Project Manager.
9.2 Managing Architectural Projects .
9.3 Project Controls.
Project Scheduling.
9.4 Construction Cost Management.
9.5 Maintaining Design Quality.
9.6 Project Closeouts.
10. Building Codes and Regulations.
10.1 Community Planning Controls.
10.2 Building Codes and Standards.
The International Building Code.
PART 4: CONTRACTS AND AGREEMENTS .
11. Types of Agreements.
11.1 Agreements with Owners.
11.2 Owner-Generated Agreements .
11.3 Project Design Team Agreements.
11.4 Construction Contracts.
12. AIA Contract Documents.
12.1 The AIA Documents Program.
2007 AIA Contract Documents.
12.2 AIA Contract Documents Synopses by Family.
Appendix A: Resources for Intern Architects.
The Intern Development Program (IDP).
The Emerging Professional's Companion.
Appendix B: Allied Professional Organizations.
Appendix C: Schools of Architecture.
Appendix D: State Registration Boards.
Appendix E: Glossary.
Index.
""...looks to be a handy resource for post-secondary and graduate students looking to enter the field of architecture. Providing sections covering practical areas of in-depth professional advice and information, this reference tool does more than just encourage design principles and technical skills. The Architecture Student's Handbook of Professional Practice puts at a student's fingertips a thorough overview of what it takes to initiate a practice to highlights of typical operational functions which are integral parts of any firm large or small. A good beginners how-to-book for every architectural student to keep within reach."" (chicagoarchitecturetoday.com; 1/09)