The Architecture of Computer Hardware, Systems Software, and Networking: An Information Technology Approach, 5th Edition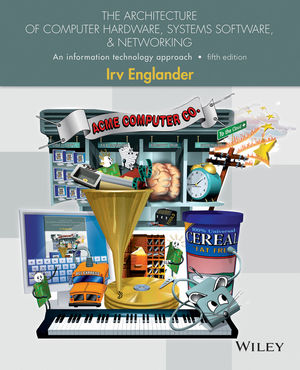 The Architecture of Computer Hardware, Systems Software, and Networking: An Information Technology Approach, 5th Edition
ISBN: 978-1-118-32263-5
Jan 2014
696 pages
Description
The Architecture of Computer Hardware, System Software, and Networking: An Information Technology Approach, 5th Edition provides the right amount of technical detail needed to succeed in the field. This accessible introduction provides the basic principles of computer system architecture and organization in the context of the current technological landscape. The author provides chapters on the fundamentals of networking as it relates to computer systems as well as all kinds of business systems, from entrepreneurial to small business, networked, distributed, and more. This valuable book provides IT professionals with several real-world case studies that clearly show how the concepts are applied in the field.
Part 1: An Overview of Computer Systems
Chapter 1 - Computers and Systems
Chapter 2 - An Introduction to System Concepts and Systems Architecture
Part 2: Data in the Computer
Chapter 3 - Number Systems
Chapter 4 - Data formats
Chapter 5 - Representing Numerical Data
Part 3: Computer Architecture and Hardware Operation
Chapter 6 - The Little Man Computer
Chapter 7 - The CPU and Memory
Chapter 8 - CPU and Memory: Design, Enhancement, and Implementation
Chapter 9 - Input/Output
Chapter 10 - Computer Peripherals
Chapter 11 - Modern Computer Systems
Part 4: Networks and Data Communications
Chapter 12 - Network and Data Communications—An Overview
Chapter 13 - Ethernet and TCP/IP Networking
Chapter 14 - Communication Channel Technology
Part 5: The Software Component
Chapter 15 - Operating Systems:  An Overview
Chapter 16 - The User View of Operating Systems
Chapter 17 - File Management
Chapter 18 - The Internal Operating System
Chapters 1-9 received updates, minor clarifications, and typo fixes as necessary.
Chapters 10-18 were substantially re-organized, updated, and revised.
The fifth edition will have a completely new and comprehensive test bank written by long time user Ronald Munsee of University of Maryland University College.
Provides students with an understanding of underlying, non-changing basics of computers so that they can make knowledgeable decisions about systems.
Carefully and patiently introduces students to new technological concepts, so that they are not overwhelmed by challenging materials, but instead build a deep understanding of what makes computer systems tick.
Examples cover a broad spectrum of hardware and software systems, from personal computer to mainframe.
The author's ""light touch"" includes a breezy, readable writing style and subject-specific cartoons that introduce each chapter's material.
As in the prior edition, discussions of hardware and system software are integrated into a single volume where symbioses between them are explored. Examples include: Virtual storage, Javabytes, distributed processing, and Virtual machines.