The Architecture of Emergence: The Evolution of Form in Nature and Civilisation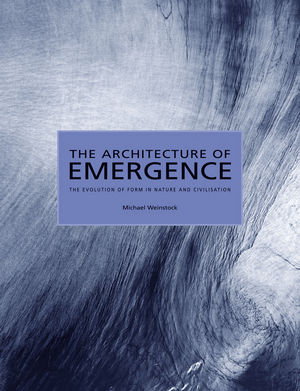 The Architecture of Emergence: The Evolution of Form in Nature and Civilisation
ISBN: 978-0-470-06632-4 March 2010 280 Pages
Description
Emergence is one of the most exciting new fields in architecture today, gaining interest from not only academics and students but also leading professionals, with directors from Fosters, Arup and Bentley Systems all attending the most recent symposium on the subject at the Architects Association, London.

As a concept, Emergence has captured the zeitgeist, embodying the pervasive cultural interest in genetics and biological sciences. In the sciences, Emergence is an explanation of how natural systems have evolved and maintained themselves, and it has also been applied to artificial intelligence, information systems, economics and climate studies. The potential of the mathematics of Emergence that underlie the complex systems of nature is now being realised by engineers and architects for the production of complex architectural forms and effects, in advanced manufacturing of 'smart' materials and processes, and in the innovative designs of active structures and responsive environments.
The first book to provide a detailed exploration of the architectural and engineering consequences of this paradigm, and a detailed analysis of geometries, processes and systems to be incorporated into new methods of working.
Sets out a new model of 'Metabolism' that uses natural systems and processes as a model far beyond the minimising environmental strategies of 'sustainability'.
www.architectureofemergence.om
Preface.
Chapter 1 Nature and Civilization.
Chapter 2 Climate and the Forms of the Atmosphere.
Chapter 3 Surface and the Forms of the Land.
Chapter 4 Living Forms.
Chapter 5 The Forms of Metabolism.
Chapter 6 Human – Anatomical and Cultural Forms.
Chapter 7 City Forms.
Chapter 8 The Forms of Information, Energy and Ecology.
Chapter 9 Emergence.
Select Bibliography.
Index.
Photo Credits.