The Architecture of New York City: Histories and Views of Important Structures, Sites, and Symbols, Revised Edition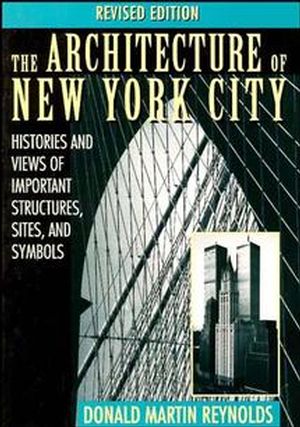 The Architecture of New York City: Histories and Views of Important Structures, Sites, and Symbols, Revised Edition
ISBN: 978-0-471-01439-3
Apr 1994
408 pages
Description
From the reviews of the first edition of Architecture of New York City. "It should provide joy to anyone even vaguely interested in this city and its artifacts.. It is very likely to turn them into enthusiasts." --New York Times Book Review ".weaves the little-known stories of 80 buildings and landmarks into a colorful tapestry of New York's whirlwind history.. This richly illustrated guide can be read from beginning to end with great pleasure." --Publishers Weekly ".Reynolds takes a new look at the older glories of New York. The architecture is freshly seen and is clearly researched. Reynolds' splendid photographs present highly original views of familiar (and not so familiar) important structures and sites." --Adolph Placzek, former president of the Society of Architectural Historians The history of New York City is a rich pageant of culture, commerce, social change, and human drama stretching back five hundred years. And when we know where to look for it, it is all there for us to see, vividly etched into the cityscape. Now in this celebration of New York's architecture, Donald Martin Reynolds helps us to see and appreciate, as never before, the city's monuments and masterpieces, and to hear the tales they have to tell. With the help of nearly 200 striking photographs (20 of them new to this edition), Dr. Reynolds takes us on an unforgettable tour of five centuries of architectural change and innovation--from 16th-century Dutch canals and 18th-century farmhouses, to the elevator buildings of the 1870s (precursors of skyscrapers) and the Art Deco, Bauhaus, and Post-modern buildings that make up New York City's celebrated skyline. Floor by floor stone by stone, detail by detail Dr. Reynolds lovingly describes 90 of the city's most striking buildings, bridges, parks, and places. He tells us when, why, and how they were built and who built them, and in the process, he evokes the illustrious and exciting history of this restless, ceaselessly seductive metropolis.
Seventeenth Century: Dutch Beginnings.

Eighteenth Century: Georgian Architecture and a Revolution.

The Federal Style.

Nineteenth Century: Greek Revival.

Temples of Commerce and Houses of Industry.

Churches: From Temple Fronts to Statue Columns.

Cast-Iron Buildings, Their Legacy, and the Palazzo Style.

The Tallest Building in the World, 1913-30: The Woolworth Building.

Fashionable Dwellings.

Theaters.

The New York Port Comes of Age.

Art Deco Skyscrapers.

Rockefeller Center: Innovation in Urban Planning.

Graves, Gardens, and Parks.

The Picturesque Point of View: Fonthill Castle, Firehouses, and the Seventh Regiment Armory.

``O Harp and Altar'': The Brooklyn Bridge.

Glossary.

Bibliography.

Index.