The Art Teacher's Survival Guide for Elementary and Middle Schools, 2nd Edition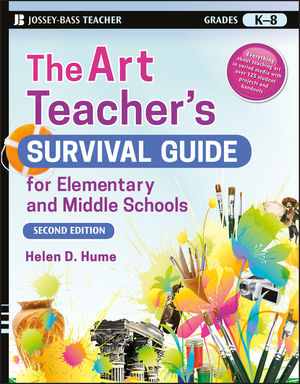 The Art Teacher's Survival Guide for Elementary and Middle Schools, 2nd Edition
ISBN: 978-0-470-18302-1
Nov 2008, Jossey-Bass
512 pages
Description
Easy ways to infuse art into classroom learning

One of the most popular books in the Jossey-Bass Teacher series is now available in a completely updated and expanded version. With more than 110 creative art projects in varied types of media--from drawing to digital--plus tips, tools, and curricular resources, The Art Teacher's Survival Guide for Elementary and Middle Schools offers everything a teacher needs to know to present an effective arts education program. Classroom teachers who want to include art projects as part of the content curriculum and art teachers looking for new ideas will all find fresh inspiration in this exciting new edition. It features numerous new projects and draws on multicultural traditions, includes reproducible pages, and provides detailed instructions with illustrations, links to content learning, and modifications for different ages. Authoritative, practical, and user-friendly, this comprehensive guide is an invaluable addition to every K-8 teacher's basic classroom tools.
Buy Both and Save 25%!
Original Price:$69.90
Purchased together:$52.43
save $17.47
Cannot be combined with any other offers.
About This Book v
The Author vi
Acknowledgments vii
Chapter 1: Let's Teac h Art 1
Why We Teach Art 1
Whole-Brain Development • Character Development Whom We Teach 2
Every Student, Daily • Students with Disabilities • Attention-Seeking Students • Gifted Students
What Children Should Know and Be Able to Do 3
Skill Building • Grade Level Characteristics: The Kindergarten Child; The First-Grade Child; The Second-Grade Child; The Third-Grade Child; The Fourth-Grade Child; The Fifth-Grade Child; The Sixth-Grade Student; The Seventh-Grade Student; The Eighth-Grade Student • Adaptations for Primary Children
Adaptations in Art for Special-Needs Students 23
General Suggestions • The Student with Impaired Vision • The Student with Autism • The Student with Impaired Hearing • The Student with Motor Impairment • The Student with Behavioral Disabilities • The Student with Developmental Disabilities
How We Teach—Thoughts on Teaching Art 26
Encouraging Creativity • Relationships with Students
Where We Teach 28
The Regular Classroom • The Art Classroom • From a Cart
The Basics for an Art Specialist 29
Communicating with Classroom Teachers • Setting Routines • Using Seating Charts • Rewarding Good Behavior • Controlling Noise • Organizing the Classroom • Managing Equipment • Storing Artwork • Maintaining Portfolios • Displaying Student Work Outside the Art Room • Signing Work • Making Labels • Preparing Student Notebooks • Cleaning Up • Dismissing Students • Bringing in New Art Materials • Recycling
Parent and Community Relations 33
Parent Volunteers • Newsletters • Student Recognition
Public Relations Guidelines 36
Where Art Information Might Be Seen • Before Contacting the Newspaper • What Is Newsworthy? What Makes a Unique Story? • Photo Guidelines
Tips on Photographing Art 38
Digital Photography • Setting Up Artwork to Photograph • Photographing Artwork in Process Tips on Safety 40
General Suggestions • Working with Clay • Care of Cutting Tools • Equipment • Recommended Materials
Tips on Creating Art Bulletin Boards 42
Materials • Hints • Suggested Themes
Tips on Matting Student Artwork 44
Materials • Personalize Purchased Mats • Things to Keep in Mind • The Easy Way • Cutting a Mat
Chapter 2: What We Teac h 46
Personal Expression 46
Individualism and Problem Solving 47
The Big Idea • Pop Culture • Service Learning
Exploring the Elements of Art and Principles of Design 48
Line 49
Color 50
Value 51
Space 52
Shape and Form 53
Texture 54
Repetition 55
Balance 56
Emphasis 57
Contrast 58
Unity 59
Topics We Teach 60
Unit Suggestions
Content Connections 61
Foreign Language • Language Arts • Math • Music • Science • Social Studies Celebrations 65
Themes Based on Seasons of the Year 66
Tips on Writing Art Lesson Plans 67
National Visual Arts Standards (K–4) 69
National Visual Arts Standards (5–8) 71
DBAE (Discipline-Based Art Education) 73
Art Production • Art History • Art Criticism/Analysis • Aesthetic Awareness • Discipline-Based Art Education Standards
Art Lesson Plan 75
Assessment 76
Authentic Assessment • Portfolios • Written Work, Journals or Sketchbooks, Self-Assessment•Classroom Critiques or Discussions • Scoring Guide or Rubric • Interviews
Chapter 3: Fun with Art History and Appreciation 78
Bring Art History to Life: Timelines 79
Timeline #1: 30,000 b.c.–a.d. 1 (Handout) 80
Art Projects for Integrated Learning, Timeline #1 81
Timeline #2: a.d. 1–1150 (Handout) 83
Art Projects for Integrated Learning, Timeline #2 84
Timeline #3: 1150–1650 (Handout) 86
Art Projects for Integrated Learning, Timeline #3 87
Timeline #4: 1650–1900 (Handout) 89
Art Projects for Integrated Learning, Timeline #4 90
Timeline #5: 1900–Present (Handout) 92
Art Projects for Integrated Learning, Timeline #5 93
Using Art Reproductions 95
Portrait Gallery • Token Response • Draw an Artwork from a Description • Scavenger Hunt • Compare and Contrast • Bulletin Board • Be a Live Painting • Gallery Curators
Art Activities with Postcards 97
Sorting and Matching • Edges, Lines, and Colors • Extend a Postcard • Expand a Postcard • Postcard Puzzles
Purchased Educational Games 100
Art Game Vendors • Word Games • Jumbles • Mix and Match Talking About Art: A Gallery Experience 101
A Real Museum Visit
Gallery Walk 102
Aesthetics 103
Writing with Art 103
Writing Projects • Conversations with a Drawing • Collage-Writing Exercise • Writing Poetry About Art Project 3-1.
Mandala (colored pencil, ballpoint pen) 108
Alternative Project: A Journey Through My Life
Project 3-2. Write and Illustrate a Myth (watercolor crayons) 110
Alternative Project: Make a Good-Luck Symbol • Content Connections: Social Studies and Science—Circles
and Standing Stones • Calendar • Multicultural Connection: Storytelling Project 3-3.
The Art Sketchbook or Journal (black ink marker, colored pencil, or watercolor) 113
Chapter 4: Pa per 115
Introduction 115
Project 4-1. Imagination Station (construction paper) 116
Alternative for Younger Students: Imaginative Animals
Changing Paper (Handout) 118
Project 4-2. Portrait Heads in Paper (paper manipulation and paper cutting) 119
Alternative Projects: Torn-Paper Face Collage; Bas-Relief Portraits; Shaped Construction Paper Three-Dimensional Masks • Content Connections: Language Arts—Give It a Life • Social Studies—Real People Portraits
Portrait Heads (Handout) 122
Collage 123
General Guidelines for Working in Collage
Project 4-3. Collage Cityscape (corrugated cardboard collage) 125
Alternative Projects: Paint a Cityscape; Cityscape or Torn-Paper Collage • Content Connections: Language Arts—The Old Town • Social Studies—Mapping; Evolution of a City
Project 4-4. Flower Garden (fadeless paper collage) 128
Content Connection: Science—Plant Identification and Seasonal Growth; Marine Plant Life
Project 4-5. Geometric Cut-Out Animals (collage) 130
Adaptation for Younger Students: Shape Relationships • Alternative Project: Paper Cut-Out Collages—Natural Forms • Content Connection: Science—Extinct Animals
Project 4-6. Story Quilt (construction paper collage) 132
Alternative Project: Muslin Quilt • Content Connections: Language Arts—Write the Story of Your Quilt Block • Mathematics—Math Problems Quilt; Computer-Designed Quilt Block; Traditional Geometric Blocks • Science—Creatures and Their Environments Quilt Blocks; Favorite Food Quilt • Social Studies—" My State" Quilt Blocks; Cultural Quilt Blocks; Transportation Quilt Blocks
Project 4-7. Handmade Paper 136
Content Connections: Language Arts—Recipes, Poems, Stories About Paper • Science—Paper in the Egyptian and Chinese Styles • Social Studies—Timeline: Development of Paper
Project 4-8. Marbleized Paper (acrylic paint) 140
Alternative Projects: Liquid Starch; Marbleize with Pastels; Traditional Marbleizing with Oil on Water
Making Books 143
Project 4-9. Pop-Up Greeting Cards (paper) 144
Pop-Ups (Handout) 146
Project 4-10. The Art Book, an Accordion-Folded Pop-Up (mixed media) 147
Content Connections: Language Arts—Haiku, Alphabet, or Poetry Book; Quotation or Story • Science—A Nature Book • Foreign Language—Story Book in a Foreign Language • Social Studies—Honor an Ancestor
Project 4-11. Personal Nature Journal (spiral-bound or copy paper) 151
Adaptation for Primary Students: Copy Paper Journal
Project 4-12. The Shaped Book (copy paper) 155
Adaptations for Younger Students: One-Fold Book; Dictated Story
Chapter 5: Drawing with Pencil, Pa stels, Crayons, and Markers 158
Project 5-1. The Bestiary; Animal Drawings (latex house paint and colored pencil) 159
Alternative Project: Mythical Creatures • Content Connections: Language Arts—Animal Journal; Animal Personality Story • Science—Animal Behavior
Animals (Handout) 162
Other Classifications of Animals (Handout) 163
Project 5-2. Signing Alphabet; Drawing the Hand (pencil and colored pencil) 164
Signing Alphabet (Handout) 166
Pastels , Crayons , and Chalk 167
Project 5-3. Still Life (Oil pastel resist with fluorescent markers) 168
Project 5-4. Making the Small Monumental (pastel) 170
Alternative Project: The Whole Room and Your Hands
Project 5-5. The "Wild Beasts" (The Fauves) (roofing paper, glue, oil pastels) 172
Alternative Project: Expressionistic Group Murals
Project 5-6. Hidden Birds (crayon etching, ink over crayon or oil pastel) 174
Content Connections: Science—Species in Danger • Social Studies—Artists and Pioneers
Project 5-7. I Saw a Ship Come Sailing In (chalk and crayon transfer) 176
Alternative Project: Scientific Illustration • Content Connection: Social Studies—Flat Earth Society; Sailing Ship History
Markers 179
Project 5-8. Folded Tissue Designs (watercolor marker) 180
Lines and Patterns (Handout) 182
Project 5-9. Geometry and Renaissance Art 183
Alternative Project: Tondo Paintings • Content Connection: Mathematics—Golden Rectangle
Project 5-10. In the Manner of . . . Artistic Interpretation (pastel, colored pencil or acrylic paint) 186
Alternative Projects: Line Drawing in an Artist's Style; Put Your Face Right Here; Carnival Backdrop Paintings
Project 5-11. Stuffed Fish (Overwriter Markers®) 189
Alternative Project: Stuffed Paper Sculptures
Project 5-12. Tessellations (marker) 191
Project 5-13. I Can Draw a Straight Line (nature drawings with fine-line marker and ruler) 193
Alternative Project: Line Portrait on a Computer
Project 5-14. Postcard Art—Put It in the Mail (mixed media—black marker, ink, watercolor) 195
Content Connection: Social Studies—International Pen-Pals
Project 5-15. Why Not Be a Cartoonist? 197
Alternative Projects: The One-Frame Cartoon; Caricature
Comic Shorthand (Handout) 199
Chapter 6: Pa inting 200
Tempera or Acrylic Paint 200
Project 6-1. Personal Rainbow Color Wheel (tempera) 202
Adaptation for Younger Students: Primary and Secondary Colors • Alternative Projects: Rainbow Wave: Moving Figure; Group Project Color Wheels • Content Connection: Science—Color in Light; Color in Pigment
Project 6-2. Enlarge a Masterpiece (tempera) 205
Adaptation for Younger Students: Black and White Enlargement • Alternative Projects: Project It on the Wall; Put It on the Ceiling; Oil Pastel Enlargement on Tagboard; Substitute Your Own Face • Content Connections: Science Environmental Mural with Animal Life • Social Studies—Schoolwide Theme Mural
Project 6-3. Legs, Wings, Claws, and Antennas (tempera) 208
Content Connections: Science—Flying and Crawling Creatures • Language Arts—Short Story About "My Creature"
Project 6-4. Winter Whites: Animals of the Far North and South (tempera) 210
Content Connection: Science—Winter Camouflage; Hibernation Habits
Project 6-5. The Mysterious Jungle (acrylic or tempera) 212
Alternative Project: Oil Pastel and Black Tempera Resist
Watercolor 215
Project 6-6. Watercolor Chart (experiments with techniques and media) 216
Adaptation for Younger Students: Experiments in Mark-Making • Alternative Project: Still Life with Special Color Scheme • Content Connection: Science—Pigments
Project 6-7. "Leaf" It to Me (watercolor) 220
Project 6-8. The Old House (watercolor) 222
Content Connections: Language Arts—Describe Your Own Home • Mathematics—Measure Your Room and Find the Area
Project 6-9. Spectacular Vernacular (water-soluble marker and watercolor) 224
Content Connections: Language Arts—Class Preservation Book • Social Studies—Preservation Conversation
Project 6-10. Sunflowers and Irises (water-soluble crayons or Payons®) 227
Adaptation for Younger Students: From Seed to Flower • Alternative Project: Giant Flowers • Content Connections: Science—Plant Your Subject; Botanical Drawing; Plant Studies • Language Arts—Tell Me About van Gogh
Project 6-11. Weaving with the Happy Accident (weaving with watercolor and mixed media) 230
Alternative Projects: Landscape or Seascape; Woven Paper Basket • Content Connection: Social Studies—Paper Weaving
Project 6-12. Painting to Music (crayon [or Craypas] and watercolor resist) 233
Content Connection: Language Arts—Write to Music
Project 6-13. Dressed for Sport, a Self-Portrait (watercolor resist) 236
Content Connections: Health and Physical Education—Pick a Sport; Sports Heroes • Mathematics—Sports Statistics; Design a Scoreboard
Project 6-14. Fantasy or Surrealistic Art (mixed media) 239
Content Connection: Language Arts—Nouns, Verbs, Adjectives; Stream-of- Consciousness Writing
Project 6-15. "Sell Your Product" Poster (mixed media) 242
Content Connection: Social Studies—Analyze Marketing Strategies
Chapter 7: Printmaking 245
General Information 245
Inking Stations • Mess Control • Preparing Dampened Paper for Monoprinting or Embossing • Inking Techniques • Multiple Color Prints • Registration • Printing Techniques • Signing Prints • Storing Plates • Transferring a Design • Prints Are Backward! • What to Print On • Improving a Print • What to Do When Prints Are Done
Methods of Printmaking 249
Collage Prints • Embossed Prints • Monotype • Monoprint • Printing "Plates" for Monoprints or Monotypes • Relief Prints • Rubbings (Frottage) • Serigraphy (Silkscreen Print) • Stenciling • Intaglio Printing (Etching Process) • Stamping
Project 7-1. Colorful Tiles (combination printing with brayers and stamps) 253
Alternative Project: Stamped Cityscape
Project 7-2. Relief Prints (modular designs with lino-cuts) 256
Alternative Projects: Repeat Pattern; Eraser Stamp or Watercolor Marker; Group Print; Reduction- Relief Print; Incised Soft Surfaces
Project 7-3. Provincetown Prints (print, watercolor marker) 259
Multicultural Project: Adinkra Cloth Stamps • Content Connection: Language Arts—Alphabet Stamps
Project 7-4. Collagraph 262
Adaptations for Younger Students: Polymer-Medium Monotype; Flattened Straws • Alternative Projects: Aluminum-Foil Relief; Inner-Tube Printing; Tape Printing; Matboard and Gesso Print
Project 7-5. The Monotype, in the Manner of Degas (water-based ink) 265
Alternative Projects: Subtractive Print and Ghost Image; Paper-to-Paper or Plastic-to-Paper Monotypes
Project 7-6. Matboard Monotypes (matboard, water-based markers) 267
Alternative Project: YUPO® Synthetic Paper Printing Plate
Project 7-7. Three Trees (drypoint etching on plastic) 270
Content Connections: Social Studies—Scrimshaw • Science—Name That Tree!
Chapter 8: Multicultural Art 273
Traditional and Nontraditional Techniques 273
Universal Symbols (Handout) 274
Project 8-1. Aboriginal "Dreamings" (tempera) 275
Alternative Project: Bark Paintings • Content Connection: Language Arts—Write a Walkabout
Aboriginal Symbols (Handout) 278
Project 8-2. Walking Cane (papier mâché formed on sticks) 279
Adaptation for Younger Students: Stick Snakes and Lizards • Content Connection: Social Studies— Learn About Folk Art
Project 8-3. The Three Perfections: Chinese Calligraphy, Poetry, and Painting (ink on paper) 281
Adaptation for Younger Students: Chinese Fable
Traditional Asian Brushstrokes (Handout) 284
Project 8-4. Japanese Sumi-e—Seven Shades of Black (ink and watercolor on paper) 285
Content Connection: Language Arts—Haiku Poetry
Project 8-5. Japanese Fish Printing (ink and watercolor) 288
Alternative Project: Foamcore Fish Print • Content Connections: Science—Underwater Habitats; Scientific Fish Illustration • Language Arts—Haiku Poetry Celebration; Rainbow Fish
Project 8-6. Mexican Folk Art Animals (papier mâché on aluminum-foil armature) 291
Adaptation for Younger Students: Papier Mâché Snakes • Alternative Project: Balsa Foam® Carvings
Project 8-7. Mexican Sun (colored pencil or crayon) 294
Alternative Project: Paper Batik Suns • Content Connection: Mathematics—Compasses and Protractors
Project 8-8. Day of the Dead Altar (mixed media) 297
Content Connection: Social Studies—Day of the Dead Research and Report
Project 8-9. Costa Rican Ox-Cart Wheels 300
Adaptation for Younger Students: Paint a Plate with Radial Symmetry • Alternative Project: Costa Rican Tray • Content Connections: Mathematics—Hex Signs • Science—Tropical Plants and Birds • Social Studies—Circular Designs in Other Cultures
Project 8-10. Iznik Tiles (cardboard, markers or colored pencil) 304
Alternative Project: Ceramic Tiles • Content Connection: Mathematics—Tessellations
Project 8-11. Pueblo (edge stencils with pastel) 307
Alternative Project: Pueblo Boxes
Project 8-12. Piasa Bird (Thunderbird) (marker) 309
Content Connection: Social Studies—Petroglyph Comparisons
Native American Bird and Animal Symbols (Handout) 311
Project 8-13. Tablita (cardboard and tempera) 312
Alternative Project: Corn-Dance Sticks • Content Connection: Mathematics—Computer Graphics Tablitas
Project 8-14. Wearing Blankets 315
Alternative Projects: Yarn Weaving on Cardboard; All-Class Woven Wearing Blanket • Content Connections: Language Arts—Family Tradition • Mathematics— Graph-Paper Blanket; Computer Graphics Blanket • Social Studies—Railroads and Native American Art
Project 8-15. Inuit Carvings with Soap 319
Alternative Project: Plaster Carving • Content Connections: Science—Arctic Animals • Social Studies—Modern Life in the Far North
Project 8-16. Paper-Cuts Around the World 322
Content Connections: Mathematics—Symmetry • Language Arts—Heirloom Certificate
Chapter 9: Ceramics 326
Some Considerations for Working with Clay 327
Hand-Building • Distributing the Clay • Wedging • Conditioning Clay • Working Consistency • Identifying the Artwork • Storing Clay Overnight or Longer • Safe Storage • Clay Throwing (Around the Room) • Working Surfaces • Tool Substitutes • Cleanup • Firing • Repairing • Finishing
Definitions of Ceramic Terms (Handout) 330
Project 9-1. Japanese Tea Bowl (clay pinch pot) 331
Content Connection: Social Studies—Have a Tea Ceremony
Project 9-2. Double Pinch Pot (clay) 334
Alternative Projects: Multiple Pinch Pots; Pinch Pot People
Project 9-3. Native American Coiled Pottery 336
Alternative Project: Coils Formed in a Bowl
Project 9-4. Coil-Built Face Pots, A Southern Tradition (clay) 340
Adaptation for Younger Students: Face Pots Using the Pinch Pot Method • Alternative Project: Memory Jugs • Content Connection: Social Studies—Peruvian Portrait Pots
Slab Construction 343
Project 9-5. Ceramic Architectural Birdhouse (slab method) 345
Adaptation for Younger Students: Birdhouse Picture Tile • Alternative Project:
Coil-Method Birdhouse • Content Connections: Science—Migratory Patterns • Social Studies—State Buildings
Project 9-6. Ceramic Mural (ceramics) 348
Alternative Project: Glazed Tiles • Modeling in Clay
Project 9-7. Portrait Heads (sculpture in clay) 352
Alternative Projects: Clay Portrait for a Magazine Cover; A Self-Portrait with Your Favorite Things; Portrait with Attitude
Project 9-8. Bas-Relief Family Sculpture (modeling clay on cardboard) 356
Alternative Project: Paint with Modeling Clay • Content Connection: Social Studies— Commemorative Presentation Medal; U.S. Government Treaties with Native Americans; Coin Design
Chapter 10: Three-Dimensional Design 359
Project 10-1. Rolled Paper-Tube Sculpture (copy paper) 361
Alternative Projects: Newspaper Tube Sculpture; All-Class Tube Sculpture • Content Connection: Mathematics—
House-of-Straw Group Project
Project 10-2. Geometric Units (tagboard or chipboard) 364
Adaptations for Younger Students: Weird Geometric Shapes; Glued Toothpick Geometric Shapes • Alternative Projects: Group Sculpture of Geometric Shapes; Construct a Famous Building with Geometric Shapes
Geometric Units (Handout) 366
Project 10-3. Plaster of Paris "Bag Molds" (plaster and plastic bags) 367
Alternative Projects: Larger Forms; Plaster Leaf or Hand Prints • Content Connection: Science— Measure Chemical Reaction Times; Sand Casting Mask -Making 370
Masks as Sculptural Objects • Themes and Materials for Masks • Armatures for the Masks • To Display Finished Masks
Masks of the World (Handout) 373
Masks of North America (Handout) 374
Project 10-4. Symmetrical Paper Masks (construction paper) 375
Content Connection: Language Arts—Write a Biographical Sketch
Project 10-5. Northwest Coast Repoussé Masks (aluminum tooling foil) 378
Content Connection: Social Studies—Special Festivals
Project 10-6. Aluminum Can Masks (recycled cans) 381
Alternative Project: Tin Hanging Ornaments • Content Connections: Social Studies—The Universal Language of Masks • Language Arts—Masks of One Cultural Group
Project 10-7. Cajun Screen-Wire Masks (screen-wire) 384
Alternative Project: Pitchy Patchy Puppets
Papier Mâch é 387
Preparation • Papier Mâché Animal • Gigantic Papier Mâché Masks • Frontlets
Project 10-8. Papier Mâché Milk Jug Masks 389
Alternative Projects: Paint the Jug; Plaster Gauze Face Masks • Content Connections: Social Studies—Mask Research Project • Language Arts—Write a Play
Project 10-9. Greek Vase or Chalice (papier mâché formed on soft-drink bottles) 394
Content Connection: Language Arts—Create a Myth
Project 10-10. Scrap-Wood Assemblage 397
Project 10-11. American Kitsch Restaurant or Hotel 399
Alternative Project: Architectural Rendering
Chapter 11: Architecture, the Built Environment 402
Research and Writing Activities in Architecture 403
Content Connection: Social Studies—Historical Research About Your City; Government in the City, State, or Nation; Archaeology; Architectural Timeline; The Old Homeplace; Houses, Then and Now; Talk About Buildings; Architectural Roots; Cornerstone; Reproduce a Foreign City • Content Connection: Language Arts—Sentimental Journey; Your Favorite Room
Art Activities Based on Architecture 405
Architectural Tour Field Trip • Corner Lot Park • Tourist Map • Stained-Glass Window • Victorian House Doorstops or Bookends • Five-Story Building • Rubbings • Architectural Stencils • Architectural Stamps • A Ghost in the House • Record a Decorative Artifact from Your Time
Architectural Definitions (Handout) 408
Project 11-1. City Planning (construction paper, milk cartons) 410
Adaptations for Younger Students: City Planning; City Buildings • Alternative Project: Skyscrapers: Nighttime in the City • Content Connection: Social Studies—Neighborhood Map; In the Future
Project 11-2. Everyone Is an Architect (mixed media) 413
Adaptation for Younger Students: Lunch-Bag Houses • Alternative Projects: Take a Chance; Inspiration from a Shell • Content Connections: Language Arts—Design a Dream Home • Social Studies— Historic Village
Project 11-3. Open the Door! (ink or marker on paper) 417
Alternative Project: The Door Competition • Content Connection: Language Arts—Opening Doors in Life
Project 11-4. Victorian Houses (bleach and oil pastels on dark paper) 419
Adaptation for Younger Students: Put Yourself in the Picture • Content Connections: Social Studies—The
Victorian Era • Language Arts—House History Book • Mathematics—Compass, Ruler, and Protractor
Project 11-5. Castle (watercolor and fine-line water-based marker) 423
Adaptation for Younger Students: Folded-and-Cut-Paper Palace • Alternative Project: Cardboard Walled City • Content Connections: Social Studies—Medieval Professions • Mathematics—Two-Point Perspective Castle Drawing
Project 11-6. Facade, the Front Side (tooling foil repoussé) 427
Alternative Projects: Aluminum-Foil Facades; Bas-Relief Foam Butcher Tray Facades; Ceramic Facades
Project 11-7. In Your Own Little Corner in Your Own Little Room (pencil perspective drawing) 430
Adaptation for Younger Students: Draw Your Surroundings • Alternative Projects: Interior Design; Stage Set; Redesign a Closet • Content Connection: Mathematics—Cityscape with One-Point Perspective; Computer Graphics Interior
Project 11-8. Interior Design, My Apartment (shoeboxes, mixed media) 433
Alternative Project: Cultural Influences
Project 11-9. The Architectural Competition: Making Models (mixed media) 436
Alternative Projects: Foamboard or Cardboard Model; Found-Object Blueprint and Design; Accessorizing
a Building
Project 11-10. Design a Chair 439
Project 11-11. Art Deco Building Design (tagboard collagraph print) 442
Alternative Project: Paper-Strip Art Deco • Content Connection: Social Studies—The 1930s and 1940s; Aviation History
Art Deco Architecture (Handout) 444
Project 11-12. Shiny Skin: Aluminum-Foil Bas-Relief (aluminum foil on printing plate) 445
Chapter 12: Digital Media, Photography, and Video 447
Computer Art Less ons 447
Computer Graphics Exercises (Handout) 449
Project 12-1. Alphabet Soup 450
Alternative Project: One-Word Composition • Content Connection: Language Arts and Social Studies—Art History Research Report
Project 12-2. Pop Art Objects and Radial Design 452
Adaptation for Younger Students: Radiating Shapes • Alternative Projects: Nonobjective Design; Symmetry; Kaleidoscope; Three-Dimensional Flower Garden; Arabesque
Project 12-3. An Old Master Painting with a Young Face (your school photo) 455
Alternative Projects: Self-Portrait Four Ways; Yourself and Your Favorite Things; Combine Two Completely
Unrelated Objects • Content Connection: Language Arts—Make a Word Portrait
Project 12-4. Computer Graphics 458
Content Connections: Language Arts—Create Your Own Website • Social Studies—Careers in Computer
Graphics; Flag Design; Travel Poster • Alternative Projects in Graphic Design: Billboard; Bookplate; Border Design; Magazine Cover; Personalized Stationery; T-Shirt Designs; Yearbook Cover • Additional Potential Assignments: African, Hispanic, or Native American Mask; Animals in Their Environments; Design It on the Computer; Different Media; DVD Labels and Box Cover; Hex Design; Metamorphosis; Name Design; Nonobjective Design; Postage Stamp; Quilt; Still Life; Victorian House
Project 12-5. Alphabet Book (lettering and drawing) 464
Adaptation for Younger Students: Favorite Letter • Alternative Project: Alphabet Coloring Book
Project 12-6. Begin with a Scan (scan a photograph) 466
Alternative Project: Photo Album • Content Connection: Language Arts—Autobiography
Project 12-7. Computer City (computer exercise using geometric shapes) 468
Content Connections: Mathematics—Perspective Drawing • Social Studies—City Center
Photography 471
Digital Photography • Advantages of Digital Photography • Disadvantages of Digital Photography
Taking Photos—Digital or Film Cameras: A Few Suggestions 472
Project 12-8. Close-Up Photograph 474
Alternative Projects: Body Parts; Product Photography; Faces in Things • Content Connection: Language Arts—Photo with a Poem
Project 12-9. On Assignment (photojournalism) 476
Adaptation for Younger Students: All About Me • Alternative Projects: A One-Photo Story; Recess
Photo Essay; Class Book • Content Connections: Language Arts—Feature Story • Social Studies—Local Color • Science—Species
Video Production 479
Basic Information on Using a Camcorder • Glossary • Effects Achieved with Filming Technique
Project 12-10. I Want to Be a Producer (video camcorder) 480
Potential Projects: Reenactment of History; Survey of Art; Be an Artist; Be a Work of Art; Architectural Report; Personal Interview • Content Connection: Language Arts—An Original Screenplay
Storyboard: The Old Philosopher (Handout) 483
Project 12-11. TV Commercial (video camcorder) 484
Content Connections: Language Arts—Script Writing • Social Studies—Public Service Announcement (PSA)
Index 486