The Art and Practical Wisdom of Student Affairs Leadership: New Directions for Student Services, Number 98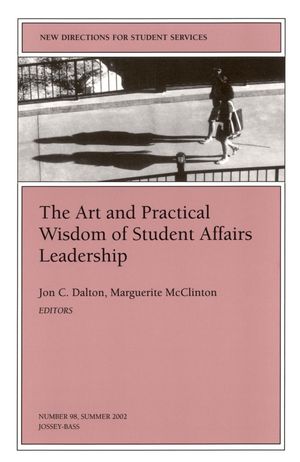 The Art and Practical Wisdom of Student Affairs Leadership: New Directions for Student Services, Number 98
ISBN: 978-0-787-96340-8
Jul 2002, Jossey-Bass
107 pages
Description
This issue collects reflections, stories, and advice about the art and practice of student affairs leadership. Ten senior student affairs leaders were asked to maintain a journal and record their personal reflections on practical wisdom they have gained in the profession. The authors didn't rely heavily on the literature for this research. Rather, they looked inside themselves to provide personal and candid insight into the convictions and values that have guided them in their work and lives. The pieces they have written about work, families, successes, failures, and other experiences reflect a shared sense of deep gratitude for a profession that has enriched their lives.

This is the 98th issue of the quarterly report New Directions for Student Services.
Editors' Notes (Jon C. Dalton and Marguerite McClinton).

1. The Art and Practical Wisdom of Student Affairs Leadership (Jon C. Dalton).

2. Relationships: The Critical Ties That Bind Professionals (Larry Roper).

3. Reflections on Career Development Among Student Affairs Leaders (Gregory S. Blimling).

4. Managing Change in Student Affairs Leadership Roles (Jon C. Dalton and Diana Imanuel Gardner).

5. Self-Renewal and Personal Development in Professional Life (Linda Reisser).

6. The Moral Domain of Student Affairs Leadership (William Thomas).

7. Uncommon Truths: A Diary of Practical Wisdom (Gregory S. Blimling).

8. Life Planning: Preparing for Transitions and Retirement (Elizabeth Nuss and Charles Schroeder).

9. Nuggets of Practical Wisdom (Jon C. Dalton and Alicia Trexler).

10. Concluding Thoughts (Jon C. Dalton and Marguerite McClinton).

INDEX.