The Art of Discussion Leading: A Class with Chris Christensen and The Art of the Lecture: Justice, a Harvard University Course in Moral Reasoning, The Derek Bok Center Series On College Teaching, Disc 4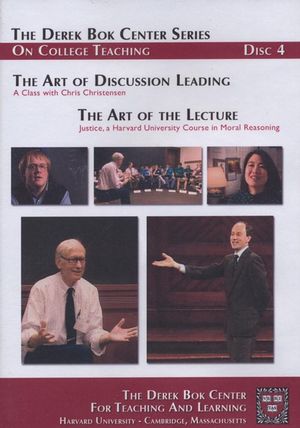 The Art of Discussion Leading: A Class with Chris Christensen and The Art of the Lecture: Justice, a Harvard University Course in Moral Reasoning, The Derek Bok Center Series On College Teaching, Disc 4
ISBN: 978-0-470-18017-4
Apr 2007, Jossey-Bass
Description
In The Art of Discussion Leading, Professor C. Roland "Chris" Christensen, who taught for nearly fifty years at the Harvard Graduate School of Business Administration, initiates a group of apprentice teachers into the challenges of discussion leading. Under her guidance, the group analyzes a teaching case centering on how much help and instructor should provide a student.

Christensen's own mastery of discussion leading provides a powerful model for anyone involved in this difficult mode of teaching.

Much can be learned about a good lecture by observing Michael Sandel, a Professor of Government at Harvard whose course, "Justice";, regularly enrolls more than 700 students. The Art of the Lecture follows three of Sandel's elegant, articulate, and thought-provoking lectures in which he involves students in their own learning by asking questions and facilitating student debates, despite the large class size.

As he explores classical and contemporary moral and political philosophy with his students, Professor Sandel shows how a traditional lecture style can be successfully combined with more interactive approach to teaching on a grand scale.
Original Price:$1,050.00
Purchased Together:$840.00
save $210.00