The Art of Giving: Where the Soul Meets a Business Plan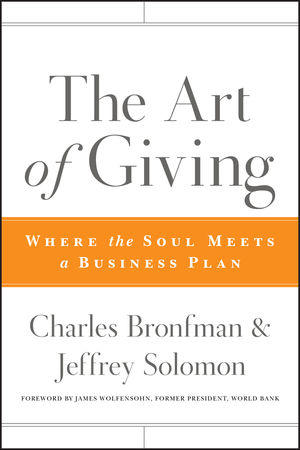 The Art of Giving: Where the Soul Meets a Business Plan
ISBN: 978-0-470-53175-4
Sep 2009, Jossey-Bass
288 pages
Description
An honest assessment for how to determine your individual relationship with charitable giving in today's world
From world-renowned philanthropists Charles Bronfman and Jeffrey Solomon of the Andrea and Charles Bronfman Philanthropies comes a comprehensive guide on how to be a canny, street-smart, effective philanthropist, regardless of your income level. It is also a perfect companion for nonprofit program and development executives who would like to introduce donors to their work and their organizations.
Despite their critical importance to philanthropy, donors have few resources for solid information about making their gifts-deciding what type of gift to give, how to structure it, the tax implications, what level of follow-up and transparency they should ask for and expect, and countless other complexities. This book fills that vacuum and helps you gain a special understanding of philanthropy as a business undertaking as well as a deeply personal, reflective process.
Drawing on decades of experience, the authors offer a fresh, enlivening approach to the nonprofit enterprise that, too often, is undervalued and thought of as the province of the burnt-out and the overwhelmed. Along with its many candid insights and memorable anecdotes, The Art of Giving also offers instruction on how to create a business plan for giving that works for you.
Foreword.
by James Wolfensohn.
Introduction: Who We Are.
Part One: The Donor.
1 Getting Started.
2 The Joy of Giving.
3 The New Philanthropy.
4 Donors Come in All Types.
5 The Soul of the New Philanthropist.
6 Accelerants.
7 Finding Your Niche.
Part Two: The Partners.
8 Do I Do It—or Do I Buy It?
9 Working with a Nonprofit.
10 Running the Show.
11 The Family.
12 The Face in the Mirror.
13 Philanthropy in Hard Times.
Part Three: The Gift.
14 A Glossary of Gifts.
15 The Pudding Is in the Proof.
16 A Little Financial Advice
17 On Innovations
18 Twenty Questions—Investing in Changing the World.
Epilogue: Why We Are Here.
Part Four: Resources.
Resource A: National Taxonomy of Exempt Entities: Core Codes Classification System.
Resource B: Index of Nonprofit Resources.
Resource C: Further Sources of Information.
Acknowledgments.
About the Authors.
Index.