The Art of Rails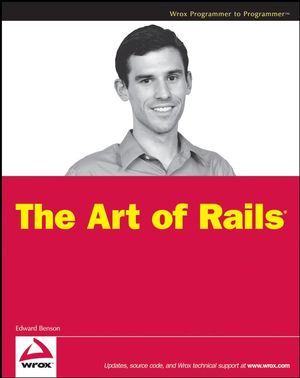 The Art of Rails
ISBN: 978-0-470-38607-1
Jul 2008
309 pages
Description
Ruby on Rails offers the ability to rapidly design and write high-quality code with elegance and maintainability. Written by an experienced web application developer, this book explains how to take good Rails code and turn it into beautiful Rails code: simple, effective, reusable, evolvable code. He discusses the very latest in design patterns, programming abstractions, and development methodologies that have emerged for the modern web. With each design technique, you?ll discover how to make your own additions to Rails and craft a development environment tailored to your specific needs.
1. Emergence(y) of the New Web.
2. The Rails Concept.
3. The Server as an Application.
4. Getting the Most from M, V, and C.
5. Beautiful Web APIs.
6. Resources and REST.
7. The Five Styles of AJAX.
8. Playing with Blocks.
9. Mixins and Monkey Patching.
10. Code That Writes Code (That Writes Code).
11. How I Loved to Stop Worrying and Love the Schema.
12. Behavior-Driven Development and RSpec.
Index.