The Art of the Chocolatier: From Classic Confections to Sensational Showpieces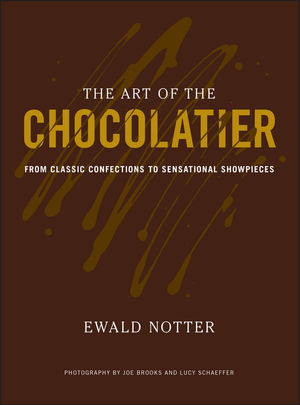 The Art of the Chocolatier: From Classic Confections to Sensational Showpieces
ISBN: 978-1-119-04524-3
Sep 2014
416 pages
Description
Becoming a successful chocolatier requires artistry and an eye for design, as well as a strong foundation in the practical skills of the pastry kitchen. In The Art of the Chocolatier, expert pastry chef Ewald Notter shares the wisdom gained from more than 35 years in the pastry kitchen, and combines lessons on artistry and technique into the ultimate guide to chocolate work. The book begins with a basic overview of chocolate, including information on the equipment, ingredients, and basic techniques needed to work with this much-loved ingredient. Part Two covers basic recipes and decorating techniques for small chocolate candies, with information on everything from making ganache and gianduja to decorating molds and creating transfer sheets. In Part Three, Notter teaches all the essential techniques for creating beautiful large-scale chocolate pieces, including making support bases and tubes, working with modeling chocolate, painting, piping, creating chocolate flowers, and more. And the final chapter explains how readers can draw on all the skills learned throughout the book to successfully create award-winning chocolate showpieces. From working with shapes and color to choosing a focus point to developing a sculpture based on a particular theme, Notter provides insights into all the tricks of the trade and expert advice on preparing for competitions. Throughout, techniques are explained with simple, step-by-step instructions and illustrated with clear how-to photos, while stunning beauty shots of chocolate showpieces and candies that are truly works of art provide inspiration. For pastry students, aspiring chocolatiers, and professional pastry chefs looking to improve their skills for restaurant work or competition, The Art of the Chocolatier is a must-have guide from one of the field's most well-known experts.
ACKNOWLEDGMENTS.
PREFACE.
PART 1: INTRODUCTION TO CHOCOLATE.
CHAPTER 1 Chocolate and Other Ingredients.
CHAPTER 2 Essential Equipment.
CHAPTER 3 Composition and Basic Techniques.
PART 2: MAKING CHOCOLATES AND OTHER CONFECTIONS.
CHAPTER 4 Simple Chocolate Methods and Recipes.
CHAPTER 5 Gianduja, Caramelized Gianduja, and Marzipan.
CHAPTER 6 Ganache.
CHAPTER 7 Decorating Techniques.
CHAPTER 8 Chocolate Praline Recipes.
CHAPTER 9 Sugar-Crusted Alcohol Pralines.
PART 3: CREATING CHOCOLATE SHOWPIECES.
CHAPTER 10 Chocolate Bases and Tubes.
CHAPTER 11 Chocolate Décor.
CHAPTER 12 Modeling Chocolate.
CHAPTER 13 Chocolate Flowers.
CHAPTER 14 Painting, Piping, and Assembling Three-Dimensional Figures.
CHAPTER 15 Creating a Competition Piece.
APPENDIX: TEMPLATES.
INDEX.