The Autism Checklist: A Practical Reference for Parents and Teachers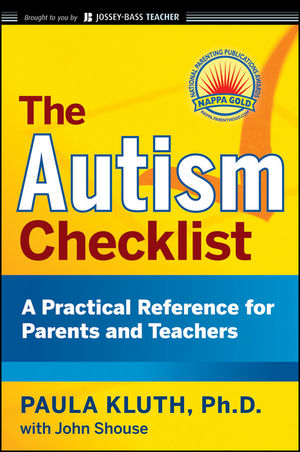 The Autism Checklist: A Practical Reference for Parents and Teachers
ISBN: 978-1-118-66207-6
Feb 2013, Jossey-Bass
256 pages
Description
A practical resource filled with information, tips, and checklists for helping kids with autism
This useful, accessible guide offers teachers and parents a better understanding of children on the autism spectrum and provides them with the kinds of support and intervention they need. Written in an easy-to-read checklist format, the book is filled with up-to-date research, practical advice, and helpful resources on a wide range of topics. The book covers five areas: basic information on autism, checklists for parents, checklists for teachers, effective support strategies, and helpful resources.
Provides vital, accessible information for parents and teachers working with children in the autism spectrum
Contains a wealth of useful strategies, information, and resources
A volume in the popular Jossey-Bass Checklist series
Offers a comprehensive yet affordable resource
Kluth is the bestselling author of You're Going to Love This Kid!: Teaching Students with Autism
Acknowledgments.
About the Authors.
SECTION ONE: BASIC INFORMATION ON AUTISM AND ASPERGER SYNDROME.
Introduction.
1.1 What We Know About Autism.
1.2 What Do We Mean by the Autism Spectrum?
1.3 Conditions Commonly Associated with Autism.
1.4 Positive Traits Associated with Autism.
1.5 Early Indicators of Autism.
1.6 Autism Myths Versus Autism Facts.
1.7 Tools Used in Autism Screening and Diagnosis.
1.8 Social Differences.
1.9 Communication Differences.
1.10 Movement Differences.
1.11 Sensory Differences and Sensitivity.
1.12 Passions, Interests, and Rituals.
SECTION TWO: CHECKLISTS FOR PARENTS.
Introduction.
2.1 After Diagnosis.
2.2 Sharing the News.
2.3 Help for Families.
2.4 What Those on the Spectrum Need at Home.
2.5 Modifying the Home.
2.6 Safety at Home.
2.7 Safety in the Community.
2.8 Adaptations at Family Events.
2.9 Adaptations for Errands and Outings.
2.10 Adaptations While Traveling.
2.11 Helping Your Child Learn at Home
2.12 Advocating for Your Child.
SECTION THREE: CHECKLISTS FOR TEACHERS.
Introduction.
3.1 What to Do If You Think a Student is on the Spectrum.
3.2 Needs of Students with Autism.
3.3 Helpful Habits of Mind for Teachers.
3.4 Learning About Autism.
3.5 Encouraging Self-Advocacy.
3.6 Addressing Student Fascinations and Passions in the Classroom.
3.7 Supporting Students Who Seek Perfection.
3.8 Supporting Students Who Resist or Refuse to Do Work.
3.9 Helping Students Cope with Anxiety.
3.10 Building a Supportive Classroom Community.
3.11 Creating a Comfortable Classroom.
3.12 Giving Clear Directions in the Classroom.
3.13 Providing Structure in the Classroom.
3.14 Creating Lessons with Students with Autism in Mind.
3.15 Creating More Accessible Whole-Class Discussions and Lectures.
3.16 Creating Assessments Appropriate for Students with Autism.
3.17 Supports and Strategies for Literacy Lessons.
3.18 Supports and Strategies for Math Lessons.
3.19 Helping Students Manage Homework.
3.20 Making Within-School Transitions Easier for Students.
3.21 Making School-to-School Transitions Easier for Students.
3.22 Preventing Behavior Struggles in the Classroom.
3.23 Don?ts for Working with Students with Autism.
3.24 Helping Students with Autism Shine.
SECTION FOUR: MORE HELPFUL STRATEGIES FOR HOME AND SCHOOL.
Introduction.
4.1 To Keep in Mind for Toddlers and Preschoolers.
4.2. To Keep in Mind for School-Age Children.
4.3 To Keep in Mind for Adolescents and Teenagers.
4.4 Possible Members of a Support Team.
4.5 Strategies for Encouraging and Facilitating Communication.
4.6 Strategies for Supporting Those Without Reliable Communication.
4.7 Strategies for Encouraging and Supporting Social Relationships.
4.8 Strategies for Building Social Skills.
4.9 Addressing Movement Differences.
4.10 Addressing Sensory Issues: Visual.
4.11 Addressing Sensory Issues: Tactile.
4.12 Addressing Sensory Issues: Auditory.
4.13 Addressing Sensory Issues: Olfactory.
4.14 Strategies for Teaching and Learning.
4.15 Promoting and Teaching Organization.
4.16 Promoting and Teaching Stress Relief.
4.17 Helping Those on the Spectrum Cope with Change.
4.18 Addressing Challenging Behavior.
4.19 Strategies for Coping in Crisis.
SECTION FIVE: HELPFUL RESOURCES FOR PARENTS AND TEACHERS.
Introduction.
5.1 Recommended Videos.
5.2 Recommended Books.
5.3 Recommended Web Sites.
5.4 Recommended Vendors.
5.5 Recommended Organizations.
References.
Index.