The Avengers and Philosophy: Earth's Mightiest Thinkers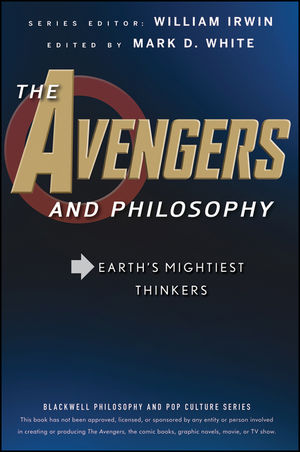 The Avengers and Philosophy: Earth's Mightiest Thinkers
ISBN: 978-1-118-23645-1 February 2012 240 Pages
Description
An engaging look at the philosophical underpinnings of Earth's Mightiest Heroes
Avengers assemble! Tackling intriguing dilemmas and issues that no single great philosopher can withstand, this powerful book enlists the brainpower of an A-list team of history's most prominent thinkers to explore the themes behind the action of Marvel Comics' all-star superhero team.
Arms you with new insights into the characters and themes of The Avengers
Deepens your appreciation both of The Avengers comics and the Joss Whedon movie adaptation
Answers the philosophical questions you've always had about Earth's Mightiest Heroes, including: Can a reformed criminal become a superhero? Can an android love a human? If a hero beats his wife, is he still a hero?
Helps you think differently about the members of the superhero team—Captain America, Iron Man, Thor, and the others
This thought-provoking book will help you understand this band of superheroes better, whether you've followed the Avengers for years or are a Joss Whedon fan just getting to know them.
INTRODUCTION:
Earth's Mightiest Philosophers 1
PART ONE WHAT WOULD AN AVENGER DO?
1 Superhuman Ethics Class with the Avengers Prime 5
Mark D. White
2 Shining the Light on the Dark Avengers 18
Sarah Donovan and Nick Richardson
3 The Avengers: Earth's Mightiest Family 28
Jason Southworth and Ruth Tallman
PART TWO WHO IS AN AVENGER?
4 Superhero Identity: Case Studies in the Avengers 43
Stephen M. Nelson
5 I Am Made of Ink: She-Hulk and Metacomics 57
Roy T. Cook
6 The Self-Corruption of Norman Osborn: A Cautionary Tale 71
Robert Powell
PART THREE SHOULD THE AVENGERS DO MORE THAN AVENGE?
7 Forgivers Assemble! 83
Daniel P. Malloy
8 Gods, Beasts, and Political Animals: Why the Avengers Assemble 98
Tony Spanakos
9 Cap's Kooky Quartet: Is Rehabilitation Possible? 113
Andrew Terjesen
PART FOUR DO THE AVENGERS EVER GO TOO FAR?
10 Fighting the Good Fight: Military Ethics and the Kree-Skrull War 131
Christopher Robichaud
11 Secrets and Lies: Compromising the Avengers' Values for the Good of the World 142
Louis P. Melançon
12 The Avengers and S.H.I.E.L.D.: The Problem with Proactive Superheroics 154
Arno Bogaerts
PART FIVE WHAT KIND OF WORLD DO THE AVENGERS LIVE IN?
13 Can Kang Kill His Past Self? The Paradox of Time Travel 171
Andrew Zimmerman Jones
14 "No Other Gods Before Me": God, Ontology, and Ethics in the Avengers' Universe 183
Adam Barkman
15 Love Avengers Style: Can an Android Love a Human? 194
Charles Klayman
16 The Way of the Arrow: Hawkeye Meets the Taoist Masters 204
Mark D. White
APPENDIX: Why Are There Four Volumes of Avengers? 217
CONTRIBUTORS: Avengers Academy 221
INDEX: From Jarvis's Secret Files 227