The Bank Analyst's Handbook: Money, Risk and Conjuring Tricks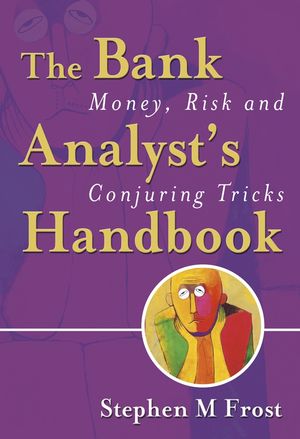 The Bank Analyst's Handbook: Money, Risk and Conjuring Tricks
ISBN: 978-0-470-09119-7 September 2005 572 Pages
Description
It is not uncommon to meet professionals in financial services who have only a vague idea of what their colleagues actually do. The root cause is specialization and the subsequent development of jargon that makes communication between common specialists faster and more precise but is virtually impenetrable to everybody else.

The Bank Analyst's Handbook provides a modern introduction to financial markets and intermediation. Individual subject areas are covered in a thorough but clear and succinct manner. The breadth of the author's experience as a sell-side bank analyst is exploited to good effect to pull together these threads and create a coherent framework for the analysis of financial markets, whether these are in advanced economies or developing markets.

The Handbook is well-written and highly accessible. It builds on orthodox financial theory (with all of its flaws and controversies) but also highlights many of the real problems involved with translating such theory into practice. It can be appreciated at many different levels and this explains its wide target readership. The Bank Analyst's Handbook:
Bridges the gap between the more superficial introductory books and specialist works
Covers all the important functions and subjects related to the financial services industry
Provides a comprehensive overview for financial services professionals, business school students, consultants, accountants, auditors and legal practitioners, analysts and fund-managers and corporate managers.
"An excellent guide for any professionals who are coming into the banking industry. Extremely well-written, covering clearly and lucidly a range of topics which many bankers themselves don't understand. I will make this book mandatory reading - no, make that studying - for anybody I hire to work as a financial sector consultant."
—Chris Matten, Executive Director, PricewaterhouseCoopers
"A great insight into the often murky and impenetrable world of banking... compulsory reading for analysts and investors alike."
—Hugh Young, Managing Director, Aberdeen Asset Management Asia Ltd
Foreword.
Acknowledgements.
Prologue.
PART I: FINANCIAL SYSTEMS.
1. Securities Markets and Financial Intermediation.
2. Introduction to Securities Valuations.
3. Central Banks and the Creation of Money.
PART II: THE SPREAD BUSINESS.
4. Deposit Taking and Other Funding.
5. Corporate Lending.
6. Operational Services.
7. Mortgage Lending.
8. Credit Cards and Other Retail Loans.
Part III: RISK MANAGEMENT.
9. The Controls Cycle.
10. Managing Interest Rate and FX Risk.
11. Trading.
12. Managing Market Risk.
13. Managing Credit Risk.
14. Capital Management.
Part IV: CAPITAL MARKETS.
15. Fund Management.
16. Investment Banking.
17. Securitization.
PART V: BANK VALUATIONS AND ACQUISITIONS.
18. Bank Valuations.
19. Bank Acquisitions.
PART VI: PROBLEM LOANS AND BANKING CRISES.
20. Corporate Failures and Problem Loans.
21. Banking Crises.
22. Dealing with & Valuing Insolvent Banks.
PART VII: SUPERVISION & FINANCIAL STATEMENTS.
23. Regulation, Supervision and Policing.
24. The Balance Sheet.
25. The Income Statement.
PRIMERS.
Statistics for Finance.
Derivation of Duration and Convexity.
Financial Institutions.
Appendix I: The Basel Accord.
Appendix II: Glossary of Terms.
Sources and Further Reading.
Index.
"To understand the industry, here is help…" (The Hindu Business Line, 16th September 2004)