The Baptist Health Care Journey to Excellence: Creating a Culture that WOWs!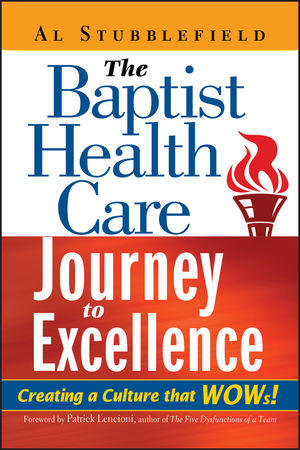 The Baptist Health Care Journey to Excellence: Creating a Culture that WOWs!
ISBN: 978-1-118-04609-8
Jan 2011
240 pages
Description
"This crystal-clear book offers to any who will listen invaluable, detailed guidance on how and why to move toward a true culture of excellence in hospital care. It isn't easy, but, as their results show, it's a journey well worth taking."—Donald M. Berwick, MD, president and CEO, Institute for Healthcare Improvement

The Baptist Health Care Journey to Excellence presents tested principles and best practices to help improve your corporate culture and customer satisfaction, which will lead to loyalty, stability, sustained productivity, and profitability in your own organization. Order your copy today!
About the Author.
Foreword.
Acknowledgments.
Introduction: From Ouch! to Wow!
1. In Search of Competitive Advantage.
FIVE KEYS TO ACHIEVING SERVICE AND OPERATIONAL EXCELLENCE.
KEY ONE: CREATE AND MAINTAIN A GREAT CULTURE.
2. Committing to the Mission.
3. Maintaining a Balanced Approach: Pillars of Operational Excellence.
4. Fueling Employee-Driven Culture Change.
5. Engaging Your Workforce: Communicate, Communicate, Communicate!
KEY TWO: SELECT AND RETAIN GREAT EMPLOYEES.
6. Selecting the Best Employees.
7. Maximizing Employee Loyalty.
8. Celebrating Successes Through Reward and Recognition.
KEY THREE: COMMIT TO SERVICE EXCELLENCE.
9. Maintaining Quality Through Service Teams.
10. Scripting for Superior Service.
11. Developing Rounding and Service Recovery Techniques.
KEY FOUR: CONTINUOUSLY DEVELOP GREAT LEADERS.
12. Establishing Ongoing Leadership Training.
KEY FIVE: HARDWIRE SUCCESS THROUGH SYSTEMS OF ACCOUNTABILITY.
13. Building a Culture that Holds Employees Accountable.
14. Beyond Baptist Health Case: Other Systems on the Journey to WOW!
Appendix: What About the Physicians?
Index.