The Bar and Beverage Book, 5th Edition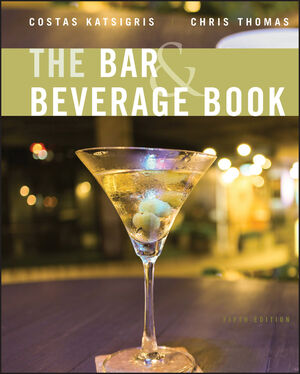 The Bar and Beverage Book, 5th Edition
ISBN: 978-0-470-24845-4 June 2012 736 Pages
Description
The Bar and Beverage Book explains how to manage the beverage option of a restaurant, bar, hotel, country club—any place that serves beverages to customers. It provides readers with the history of the beverage industry and appreciation of wine, beer, and spirits; information on equipping, staffing, managing, and marketing a bar; and the purchase and mixology of beverages. New topics in this edition include changes to regulations regarding the service of alcohol, updated sanitation guidelines, updates to labor laws and the employment of staff, and how to make your operation more profitable. New trends in spirits, wine, and beer are also covered.
Table of contents
Chapter 1: The Beverage Industry, Yesterday and Today
Chapter 2: Responsible Alcohol Service
Chapter 3: Creating and Maintaining a Bar Business
Chapter 4: Bar Equipment
Chapter 5: The Beverages: Spirits
Chapter 6: Wine Appreciation
Chapter 7: Wine Sales and Service
Chapter 8: Beer
Chapter 9: Sanitation and Bar Setup
Chapter 10: Mixology, Part One
Chapter 11: Mixology, Part Two
Chapter 12: Employee Management
Chapter 13: Purchasing, Receiving, Storage, and Inventory
Chapter 14: Planning For Profit
Chapter 15: Managing Your Bar Business
Chapter 16: Regulations
New To This Edition
Shows updated bar trends, from airport bars to hookah bars, to hotel minibars.
Updated information about how the industry is working to promote responsible service.
New demographic information about potential customer segments
More information on the marketing powerhouses behind some of the major liquor brands, and details about such trendy products as cachaça, light whiskey and absinthe.
Descriptions of more types of grapes used in winemaking, and updated the American Viticultural Areas (AVAs) to reflect those most recently designated.
Extensive discussion of options for bar mixes and juices, an introduction to agua fresca, and the debate about serving bottled water versus filtered tap water.
Features
Responsible alcohol service—learn crisis management, protection from third-party liability, and ways to ensure customers drink in moderation
Marketing—investigate new service methods to attract a wider demographic
Staffing—improve the recruitment, hiring, and training of employees
Spirits, wine, and beer—acquire a greater knowledge of upscale products
Management practices—learn methods for pricing individual drinks, tracking product, preventing loss, and calculating a bar's break-even point for profitability
Regulations—stay informed about the latest legal issues