The Bases of Competence: Skills for Lifelong Learning and Employability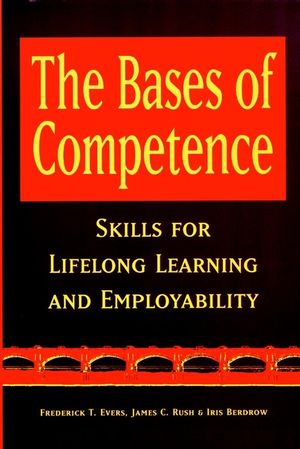 The Bases of Competence: Skills for Lifelong Learning and Employability
ISBN: 978-0-787-90921-5
Oct 1998, Jossey-Bass
273 pages
Description
The Bases of Competence explains what skills and competencies students need to succeed in today's workplace and details how colleges and universities can strengthen the curriculum to cultivate these skills in their undergraduate students. The book addresses the continuing disparity between the skills developed in college and the essential skills needed in the dynamic workplace environment. By providing a common language from which to work, The Bases of Competence enables both educators and employers to create educational experiences of practical and enduring value.

Drawing on more than a decade of research on companies, graduates, and students, the authors identify four distinct skill combinations most desired by employers--Managing Self, Communicating, Managing People and Tasks, and Mobilizing Innovation and Change. Using case studies and best practices from a wide variety of institutional settings and workplace environments, the authors show how developing competencies narrows the gap between the classroom and work--providing students with a portfolio of basic skills that translate into lifelong employability.
UNDERSTANDING COMPETENCE.

The Humbling Effect: Moving from College to the Workplace.

Creating a Common Language about Competence.

ESSENTIAL SKILLS AND COMPETENCIES.

Managing Self.

Communicating.

Managing People and Tasks.

Mobilizing Innovation and Change.

DEVELOPING COMPETENCE.

Closing the Gap Between Campuses and Workplaces.

Fostering Workplace Skills in the College Curriculum.

Building on Collegiate Learning in the Workplace.

CASE STUDIES.

Teaching World of Work Skills Within a Degree Program: Ontario Agricultural College (A. Auger).

Listening to the Customer: External Assessment of Competencies at Babson College (J. Weintraub, et al.).

Cultivating Competence to Sustain Competitive Advantage: The Bank of Montreal (J. Logan).

Resource: Making the Match Year 3 Questionnaires (Skill Sections) for Students, Graduates, and Managers.
"The Bases of Competence provides educators and employers with the tools they need to create practical, valuable learning experiences for those they instruct and lead.... The arguments are well presented, and people in higher education will find much to agree with in this book." --The Journal of Academic Leadership

"This book should be required reading for curriculum committees throughout higher education and will be of interest to higher education faculty, administrators, and graduate students in a wide variety of areas." --Choice

"The Bases of Competence makes a valuable contribution to the dialogue on one of the most vital issues of our time: how to educate people for a rapidly changing workplace and society. Better skills are what the authors call for, but not the rote, rudimentary, tactile skills of old. Rather, intellectual skills--communicating, managing self, managing people and tasks in order to mobilize for innovation and change--are needed in this new information age." --Richard O. Mason, director, Maguire Center for Ethics and Public Responsibility, Southern Methodist University

"The Bases of Competence is essential reading for executives and managers concerned about the effective preparation of the next generation of entrants to the workforce. It is the source for anyone who needs to know what specific skills the new economy demands of university graduates, as well as how to nurture these capabilities." --Douglas T. Hall, director, Executive Development Roundtable, and professor, organizational behavior, Boston University School of Management

"The Bases of Competence presents concrete examples as to how higher education can reengineer the learning environment to expose students to the specific behavioral skills that they will need in order to cope and succeed in the world of business. Mandatory reading for educators interested in making the transition from traditional learning to skills-based education." --Steve Williams, director, Graduate Business Programs, Harding University