The Bauman Reader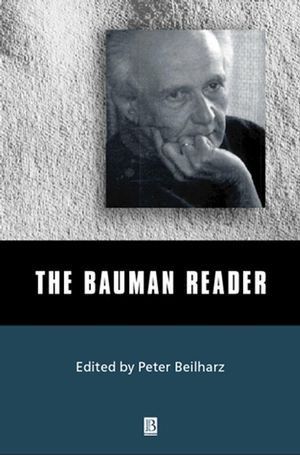 The Bauman Reader
ISBN: 978-0-631-21491-5 November 2000 Wiley-Blackwell 378 Pages
Description
The remarkably diverse writings of Zygmunt Bauman range across a large number of issues in sociology, politics, history, and cultural studies. This is the first collection of Bauman's writings that covers the entire breadth of his work, and includes a summarizing essay and commentary by editor Peter Beilharz. As a whole, this is not only a guide to Bauman's way of thinking, but a guide to making sense of our times through the major work of one of the most important figures in late-twentieth-century social thought
Table of contents
Preface.
1. Introduction: Peter Beilharz: Reading Zygmunt Bauman.
2. The Telos Interview.
3. Socialism.
3.1 The Historical Location of Socalism.
3.2 Modern Times, Modern Marxism.
3.3 Communism: A Postmortem.
4. Class and Power.
4.1 Class: Before and After.
4.2 Gamekeepers Turned Gardeners.
4.3 The Rise of the Interpreter.
5. Hermeneutics and Critical Theory.
5.1 The Challenge of Hermeneutics.
5.2 Critical Theory.
5.3 Modernity.
6. Sociology and the Postmodern.
6.1 A Sociological Theory of Postmodernity.
6.2 The Re-Enchantment of the World, or, How Can One Narrate Postmodernity?.
7. Figures of Modernity.
7.1 Making and Unmaking of Strangers.
7.2 Parvenu and Pariah: The Heroes and Victims of Modernity.
8. The Century of Camps.
8.1 Sociology After the Holocaust.
8.2 Dictatorship Over Needs.
8.3 A Century of Camps?.
9. Ambivalence and Ethics.
9.1 The Quest for Order.
9.2 The Social Construction of Ambivalence.
10. Globalization and the New Poor.
10.1 On Glocalization: Or Globalization for Some, Localization for Some Others.
10.2 From the Work Ethic to the Aesthetic of Consumption.
11. The Journey Never Ends, Zygmunt Bauman Talks With Peter Beilharz.
Index.
Reviews
"
The Bauman Reader
, edited by Beilharz, provides an excellent condensation of the sociologist's remarkably diverse writing in social theory, politics, and philosophy. The
Reader
scoops up many of Bauman's most significant work on the nature of culture, intellectuals, morality, ethics, modernity, postmodernity, and globalisation." -- Anthony Elliott,
The Australian


"This anthology provides the possibility for students of social theory and postmodernity finally to 'get a handle' on the multifaceted, deeply veined work of Zygmunt Bauman. Beilharz makes a real contribution by providing organizational categories for Bauman's diverse writing. Further, his broadly reasoned introduction supplies a biographical, historical, and theoretical framework for making overall sense of what Bauman has been up to during his distinguished and highly original career." Jeffrey Alexander, University of California at Los Angeles

"Zygmunt Bauman is one of the most enterprising minds in the contemporary social sciences. Beilharz's selection provides a full picture of Bauman as an analyst of class, as a moral philosopher, and as a critic of globalization. The image that emerges is one of a European intellectual of the old style who is entirely up to the exigencies of our time." Peter Wagner, European University Institute
Features
* Provides broad coverage of Bauman's most important writings, grouped thematically.
* Includes substantial interviews with Bauman, and an introductory essay by the editor.
* Extremely up-to-date collection offers material related to forthcoming Bauman texts.