The Bear Book: Survive and Profit in Ferocious Markets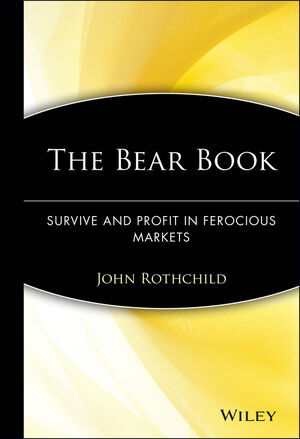 The Bear Book: Survive and Profit in Ferocious Markets
ISBN: 978-0-471-19718-8 April 1998 304 Pages
Description
"Rothchild finds some compelling evidence that a Bear might be lurking in the woods. [He] addresses the subject with candor."-The Wall Street Journal

"In a timely antidote to the fever now raging in the markets, Rothchild's new book dishes a long dive when investors least expect it." -Washington Post Book World

April 14, 2000. The Dow drops over 600 points. Investors the world over receive a startling reminder that "what goes up, must come down." Today's exceptionally volatile markets exemplify the hair-raising financial instability that most analysts see as a continuing trend. More than ever before, investors deserve a sound explanation of how to profit-or minimize loss-in such a climate, and be prepared for the inevitable dips. In Survive and Profit in Ferocious Markets, bestselling financial writer John Rothchild provides a rare understanding of profit making when the markets are tenuous, with volatility at every turn. Here is specific, comprehensive, and timely information on:
* Where the economy is going and how exactly to invest in it
* How investors can negotiate the awkward terrain between the new and old economies
* Investment strategies at different stages of a volatile market
* The psychology of investing, a history of the markets, and biographies of prominent investors, including Roy Neuberger and Philip Carret

With wit, wisdom, and a penchant for telling a good story, Rothchild provides all investors, from novices to pros, with the tools to protect their investments and prosper.
Partial table of contents:

BEARS WILL RISE AGAIN.

Are Stocks Really That Great?

The Case for Cutting and Running.

HOW TO SPOT A BEAR.

Deflating Bears, Inflating Bears.

Are Earnings Overrated?

Early Warning Systems.

WHO'S CRYING BEAR?

The Cassandras.

The Doomsday Best-Seller.

Beware the New Era.

The Bearish Newsletter.

IT'S A BEAR'S WORLD, AFTER ALL.

There's Always a Bear Market Someplace.

The Global Hedge.

BEAR-PROOFING THE PORTFOLIO.

The Bear Busters.

Hiding in Bonds.

Jumping on the Next Bull.

MY MUTUAL FUNDS WILL SAVE ME AND OTHER FALLACIES.

Mutual Misery.

Bear-Friendly Funds.

WINNING FROM LOSING.

The Short Sale Made Simple.

BEAR'S GAZETTE.

Hall of Fame.

Could 1929-That Is, 1932-Happen Again?

Bearish Odds and Ends.

Index.
"(John Rothchild) made a small fortune from writing books that made finance funny and entertaining."-Miami Herald

"Mr. Rothchild finds some compelling evidence that a bear might be lurking in the woods. (He) addresses the subject with candor."-The Wall Street Journal

"According to Rothchild, there's a dark cloud looming behind virtually every silver lining. And to the extent that it can, his book gives investors useful market history to help them cope when the next storm arrives to put the current bull in its place."-Washington Post Book World

"THE BEAR BOOK would be fascinating just because Rothchild is an entertaining writer who has gathered such a wide variety of historical facts, anecdotes, theories and current opinions to enlighten the reader about market declines."-Chicago Sun-Times

"A timely wake-up call...contains fascinating stories about history's greatest financial busts as well as guidance on how to cope with the next one."-Miami Herald

"An enlightening work that's likely to give investors a bigger scare than a Stephen King novel. Rothchild isn't one of those doom-and-gloom forecasters. He's just hoping to provide some perspective."-San Diego Union-Tribune

John Rothchild, author of THE BEAR BOOK: Survive and Profit in Ferocious Markets wrote an editorial published in the September 6, 1998 issue of New York Newsday entitled "Are Investors Setting Free the Bears?"