The Beneficiary Workbook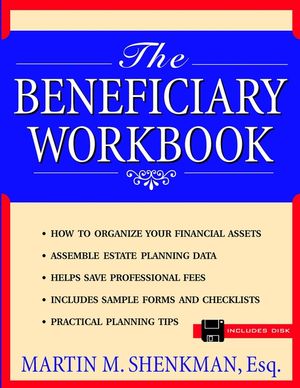 The Beneficiary Workbook
ISBN: 978-0-471-17211-6
Mar 1998
295 pages
Product not available for purchase
Description
Properly organizing and accurately recording your assets are keys to ensuring financial security for yourself and your beneficiaries. This indispensable new guide shows you step by step how to get your affairs in order. Covering everything from bank accounts and real estate to insurance and retirement funds, The Beneficiary Workbook helps you arrange critical legal, financial, personal, and estate information into a system tailored to suit your individual goals.

Far more than just an organizer, The Beneficiary Workbook provides essential details on correcting and improving documented data, as well as invaluable advice on maintaining your records to safeguard against legal claims, maximize investment returns, assure adequate protection in case of disability, and be prepared for any circumstance --both expected and unexpected. A fully loaded resource, it contains all the organizational tools you'll need: practical guidelines, useful checklists, and easy-to-read charts, along with an IBM-compatible disk that includes all sample forms that you can easily customize for your personal use.
Introduction to Your Beneficiary Handbook.

Emergency Information: First Things First.

Basic Background Information.

Medical and Health Information.

Banking and Financial Information.

Credit Cards and Liabilities.

Securities and Other Investments.

Insurance Information.

Estate Planning Documents.

Tax Information.

Business Interests.

Personal Property (Furniture, Cars, Jewelry, and Other Belongings).

Real Estate Record Keeping.

Retirement Asset Information.

Other Investments and Miscellaneous Assets.

Probate and Estate Administration.

Budgeting.

Glossary.

Index.

About the Disk.