The Best Christian Writing 2006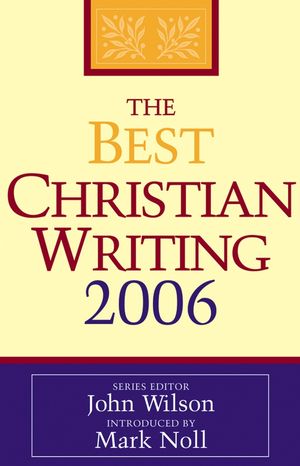 The Best Christian Writing 2006
ISBN: 978-0-787-97475-6
Oct 2005, Jossey-Bass
240 pages
Product not available for purchase
Description
The Best Christian Writing 2006 is the latest edition of the critically acclaimed series that offers a collection of the best and brightest Christian writing in one compelling volume. The Best Christian Writing 2006 contains accessible essays that provide an excellent overview of the range and depth of Christian thinking and display the unity in diversity evident in today's leading Christian writers. The contributors distill the riches of belief into lucid explorations of faith that reflect the many dimensions of lived Christianity. Well-crafted and provocative, these essays will inspire and challenge readers who seek to live their faith in a contemporary world. This important resource includes contributions from a diverse group of distinguished writers.
Introduction: Good Writing Is Clear Writing—And It's the Same for Good Christian Writing Too (
Mark Noll
).
Preface (John Wilson).
Sermo CXCVI: Christmas #13 (Augustine).
Omit Unnecessary Words: On the Trail of Faith and Writing (Andy Crouch).
Phil's Shadow: The Lessons of Groundhog Day (Michael P. Foley).
Spirituality for All the Wrong Reasons: An Interview with Eugene Peterson (Mark Galli).
On Reproduction and the Irreproducible Gift: Christ, Conception, and Biotechnology (Amy Laura Hall).
Odd Job (Richard Lischer).
Islamic Counter-Reformation (Paul Marshall).
The Meaning of Christ's Suffering (Frederica Mathewes-Green).
High Fidelity (Bill McKibben).
Confessions of a Traveling Calvinist (Richard J. Mouw).
The Persistence of the Catholic Moment (Richard John Neuhaus).
Thanksgiving at Fair Acres (Virginia Stem Owens).
Belief Unbracketed: A Case for the Religion Scholar to Reveal More of Where He or She Is Coming From (Stephen Prothero).
My Africa Problem . . . and Ours (Gideon Strauss).
To Skellig Michael, Monastery in the Sky (Daniel Taylor).
Brother John (August Turak).
Spokane: A Triptych (Paul J. Willis).
Wedding Insanity (Lauren F. Winner).
Picturing the Passion (Gregory Wolfe).
Is Art Salvific? (Nicholas Wolterstorff).
Biographical Notes.
Credits.