The Best Damn Sales Book Ever: 16 Rock-Solid Rules for Achieving Sales Success!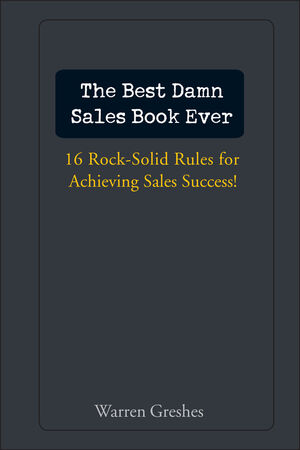 The Best Damn Sales Book Ever: 16 Rock-Solid Rules for Achieving Sales Success!
ISBN: 978-1-118-04635-7 January 2011 208 Pages
Description
""Over the years, I have seen them all, and Warren Greshes is one of the very best. In his wonderful new book, Warren distills a lifetime of sales training into sixteen actionable tools, which, if you use them, will guarantee that you too reach your goals.""
-Mark Terry, President, Harman Pro Group

""A great read! Warren says it all in a way that's not only easy to understand, but even easier to implement. No need to ever read another book on this subject.""
-John Gamauf, President Consumer Replacement Tire Sales Bridgestone Firestone North American Tire, LLC

""Put this book on your must-read list if you want to learn successful strategies for taking your distribution team to the next level. Through motivation and education, Warren Greshes has captivated our very best top managers and producers. He pushes them to succeed and to keep their goals out in front of them, all the while maintaining a clear message, infused with his sense of humor. Warren has helped pave our way to success.""
-Bernadette Mitchell, Vice President Retirement Benefits Group, AXA Equitable

""Warren is truly an expert in the field of sales! His grassroots ideas are practical, designed for immediate implementation, and are sure to lead to top-notch results. This book is a must-read for those new to sales and those veteran salespeople who want to take their skills to the next level.""
-Raj Madan, corporate marketing executive, financial services industry
Introduction.
Chapter 1. Attitude and Commitment: It all Starts Here.
Chapter 2. Successful Salespeople See Themselves Successful.
Chapter 3. Setting Goals: Why you Need to Write them Down.
Chapter 4. Successful Salespeople are in Control.
Chapter 5. The Three Components of an Effective Written Goal.
Chapter 6. The Action Plan: Why you Need One.
Chapter 7. The Three Components of an Effective Written Plan.
Chapter 8. Acting On Your Plan: You Have Twenty-Four Hours to Act on a Good Idea.
Chapter 9. Persistence: People Don't Fail, They Just Stop Trying.
Chapter 10. Your First and Most Important Sale is at Home.
Chapter 11. Successful Salespeople Sell More Than Just the Product or Service.
Chapter 12. Successful Salespeople Create and Deliver Value; They Don't Sell Price.
Chapter 13. Successful Salespeople Understand Who the Customer is and What They Really Want.
Chapter 14. Successful Salespeople are Experts, Advisors and Resources.
Chapter 15. Successful Salespeople Love what they do.
Index.
The big secret to sales success? A simple truth: Motivated, positive, goal-oriented people are usually the ones who sell the most. Even if you don't think you have these vital qualities, you can develop them in yourself — with the right help. (Realtor Magazine, July 2006)