The Best of Active Training: 25 One-Day Workshops Guaranteed to Promote Involvement, Learning, and Change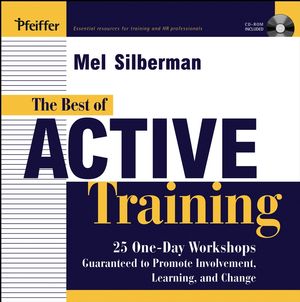 The Best of Active Training: 25 One-Day Workshops Guaranteed to Promote Involvement, Learning, and Change
ISBN: 978-0-787-97102-1
Feb 2004, Pfeiffer
576 pages
Description
The Best of Active Training is a timesaving resource that offers 25 state-of-the-art workshop designs on training topics most currently in demand. Each of these proven one-day workshop activities has been selected from Mel Silberman's widely-acclaimed three volume series, 20 Active Training Programs. Using this resource, you will no longer have to spend hours of your precious time researching, experimenting, and documenting Active Training designs. Simply select those designs that best fit your training needs and use them as-is or tailor them for your particular circumstances. The CD-ROM contains all 25 designs so they can be effortlessly customized and fully reproduced.
About the Editor.
Introduction.
1. Active Training Techniques: Promoting Learning by Doing (Mel Silberman).
2. Succession Planning: The Manager's Role (William Rothwell).
3. 360o Feedback: Developing an Effective System (Charlotte Podowski).
4. Process Improvement: Using Process Maps for Analysis and Design (Tom Devane).
5. Effective Communication: Getting Your Message Across (Frances Young and Charles Haughton).
6. Coaching Skills: Supporting Employee Development (Mel Silberman).
7. Effective Listening: Better Relationships and Improved Results (Kevin Eikenberry).
8. Breakthrough Learning: Learning to Learn in a Changing World (Jeanne Baer).
9. Enhancing Established Trams: Strategies for Team Development (Laura McCann).
10. The Challenge of Change: Helping Others to Confront It (Karen Lawson).
11. Satisfaction Guaranteed: Delivering High-Caliber Customer Service (Kim Stott).
12. Sexual Harassment: A Workplace Delimma (Myra Bellin).
13. Personal Effectiveness: Strategies for Effective Living (Stephanie Juillerat and Laurie Schreiner).
14. New-Employee Orientation: Becoming Acquainted With a New Company (Stephanie Juillerat, Karen Lawson, and Nancy Carlson Lewine).
15. Consultative Selling: How to Build Partnership in Business Relationships (Denise A. Trifiletti and Ron A. Alexandri).
16. Productive Groups: Skills That Make a Difference (Mel Silberman).
17. Negotiating to Win/Win: Conflict Resolution in Personal and Professional Relationships (Mel Silberman).
18. Stress for Success: Understanding and Managing The Stress In Your Life (Vicky Whiteling).
19. Proactive Project Management: How to Be In Charge From Beginning to End (William Stieber).
20. Appreciating Diversity: A Window of Opportunity (Marie Amey-Taylor).
21. Career Exploration and Planning: Reviewing Your Options (Vicky Whiteling).
22. The Time of Your Life: Getting What You Want Through Time Management (Gretchen Castle).
23. Making Meetings Work: How to Plan, Organize, and Conduct Productive Meetings (Jean Haskell).
24. Conducting a Performance Review: Facilitating Employee Growth (Pat Gaddis).
25. The Art of Delegation: Effective Guidance for Your Direct Reports (Barry MacMillan).
Glossary.
References.
How to Use the CD-ROM.
Pfeiffer Publications Guide.