The Biology of Extracellular Molecular Chaperones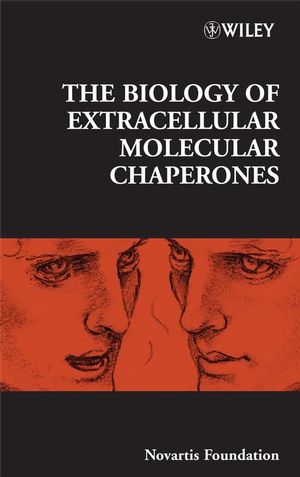 The Biology of Extracellular Molecular Chaperones
ISBN: 978-0-470-75403-0 May 2008 248 Pages
Description
The heat shock, or cell stress, response was first identified in the polytene chromosomes of Drosophila. This was later related to the appearance of novel proteins within stressed cells, and the key signal stimulating this appearance was identified as the presence of unfolded proteins within the cell. It is now known that this is a key mechanism enabling cells to survive a multitude of physical, chemical and biological stresses.

Since the promulgation of the 'molecular chaperone' concept as a general cellular function to control the process of correct protein folding, a large number of molecular chaperones and protein folding catalysts have been identified, and it has been recognized that not all molecular chaperones are stress proteins and vice versa. The discovery of molecular chaperones as folding proteins went hand-in-hand with their recognition as potent immunogens in microbial infection. It was subsequently shown that administration of molecular chaperones such as Hsp60, Hsp70 or Hsp90 could inhibit experimental autoimmune diseases and cancer.

More recently evidence has accumulated to show that certain molecular chaperones are also present on the surface of cells or in extracellular fluids. A new paradigm is emerging: at least some molecular chaperones are secreted proteins with pro- or anti-inflammatory actions, regulating the immune response in human diseases such as coronary heart disease, diabetes and rheumatoid arthritis. In addition to having direct effects on cells, molecular chaperones can bind peptides and present them to T cells to modulate immune responses. This may be significant in the treatment of cancer.

This is the first book bringing leading researchers in this field together to review and discuss:
our current knowledge of cell stress response and molecular chaperones
the changing paradigms of protein trafficking and function
cell stress proteins as immunomodulators and pro- and anti-inflammatory signalling molecules
the role of these proteins in various chronic diseases and their potential as preventative or therapeutic agents.
The Biology of Extracellular Molecular Chaperones is of particular interest to immunologists, cell and molecular biologists, microbiologists and virologists, as well as clinical researchers working in cardiology, diabetes, rheumatoid arthritis and other inflammatory diseases.
Symposium on The biology of extracellular molecular chaperones, held at the Novartis Foundation, London, 5–7 June 2007
.
Editors: Derek J. Chadwick (Organizer) and Jamie Goode.
This symposium is based on a proposal made by Brian Henderson, R. John Ellis and A. Graham Pockley
Péter Csermely Chair's introduction.
Jodie Haak and Kevin C. Kregel 1962–2007: a cell stress odyssey.
Discussion.
Peter A. Lund and R. John Ellis The chaperone function: meanings and myths.
Discussion.
Péter Csermely, Tamás Korcsmáros, István A. Kovács, Máté S. Szalay and Csaba Soti Systems biology of molecular chaperone networks.
Discussion.
Radhey S. Gupta , Nallur B. Ramachandra, Timothy Bowes and Bhag Singh Unusual cellular disposition of the mitochondrial molecular chaperones Hsp60, Hsp70 and Hsp10.
Discussion.
Martha Triantafilou, Daniel Sawyer, Abdiaziz Nor, Emmanouil Vakakis and Kathy Triantafilou Cell surface molecular chaperones as endogenous modulators of the innate immune response.
Discussion.
A. Graham Pockley and Gabriele Multhoff Cell stress proteins in extracellular fluids: friend or foe?
Discussion.
Francisco J. Quintana and Irun R. Cohen HSP60 speaks to the immune system in many voices.
Discussion.
Stuart K. Calderwood, Jianlin Gong, Jimmy R. Theriault, Salamatu S. Mambula and Philip J. Gray Jnr Cell stress proteins: novel immunotherapeutics.
Discussion.
General discussion.
Brian Henderson Cell stress proteins as modulators of bacteria–host interactions.
Discussion.
Anthony R. M. Coates, Ana Cehovin and Yanmin Hu Chaperonin 60 and macrophage activation.
Discussion.
Alexzander Asea Hsp70: a chaperokine.
Discussion.
Hajime Nakamura Extracellular functions of thioredoxin.
Discussion.
Carol L. Miller-Graziano, Asit De, Krzysztof Laudanski, Tara Herrmann and Sanjukta Bandyopadhyay HSP27: an anti-inflammatory and immunomodulatory stress protein acting to dampen immune function.
Discussion.
Gabriel S. Panayi and Valerie M. Corrigall BiP, an anti-inflammatory ER protein, is a potential new therapy for the treatment of rheumatoid arthritis.
Discussion.
Final discussion.
Index of contributors.
Subject index.
"This is a useful addition to the literature on chaperones … .It provides an excellent source of information for anyone who needs more than just basic knowledge about this area of biology." (Doodys Book Reviews, December 2008)