The Biotech Investor's Bible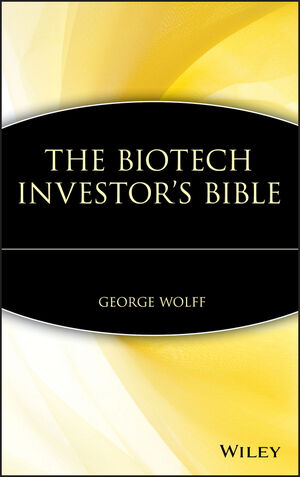 The Biotech Investor's Bible
ISBN: 978-0-471-41279-3
Jun 2001
336 pages
Description
A one-stop source for investing in biotech-with detailed coverage of the science, the business, the players, and the strategies for one of today's most promising (and volatile) industries
To invest in biotech is to invest in the future, and as such, investors need to learn the nuances of the science they're putting their money on. The core asset of biotech companies is knowledge, and sound investment decisions are impossible without an understanding of this complex science. That's where The Biotech Investor's Bible fits in. This much-needed, one-of-a-kind resource simplifies the complex science surrounding the business of biotech and clarifies subtle distinctions within the context of their financial repercussions. The book explains the basics of genetics, patents, and therapies; and teaches investors how to value biotech companies and their state-of-the art products and technology. The Biotech Investor's Bible offers an informative summary of the relatively short history of the industry and provides a comprehensive review of various industry sectors.
George Wolff (St. Pete Beach, FL) is a successful consultant advising clients who are investing in biotech stocks. He has assessed well over 150 biotech companies and has issued a number of valuable white papers that have charted the success of the hottest biotech companies.
PART I.

Introduction.

On the Threshold.

Assessing the Biotech Market.

The Keys to Biotech Investing.

Going Over Biotech Books.

The Four Tiers of Biotech Companies.

Biotechnology and Portfolio Planning.

Decision Making.

The Sector in Perspective.

The Biotech Investor's Checklist.

PART II.

The Science Behind the Industry.

The Language of Genes.

The Realms of Biotechnology (or Who's Doing What).

The Pick and Shovels of Biotechnology.

The New Biotech Therapies.

Special Sectors.

Appendix A: A Breakdown of 185 Major Biotech Companies.

Appendix B: Resources.

Appendix C: A Glossary of Terms.

Notes.

Index.