The Birth of Intimacy: Privacy and Domestic Life in Early Modern Paris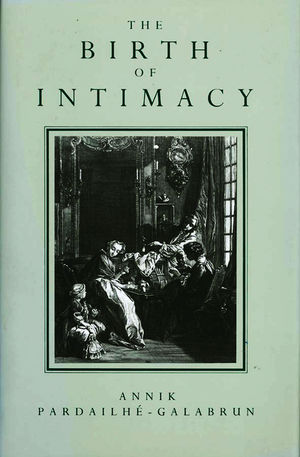 The Birth of Intimacy: Privacy and Domestic Life in Early Modern Paris
ISBN: 978-0-745-60693-4
Apr 1992, Polity
320 pages
Description
This lively new book examines the origins of modern intimacy and domestic life. Focusing on Paris in the seventeenth and eighteenth centuries, the author explores the emergence and development of ideas such as 'sociability', 'comfort' and 'the home.

On the basis of extensive and original research, Pardailhé-Galabrun describes early modern Paris as a city of contrasts: between buildings constructed as rental properties with ordinary, cramped facades, and the townhouses of the nobility, with carriage entrances, standing on lots alongside spacious courtyards and gardens. She has produced a vivid picture of the texture and warmth of life in the domestic world of pre-Revolutionary Parisians.
Preface by Pierre Chaunu.
Introduction.
1. Geographic Location of Households in Paris and its Suburbs.
2. A Sample of the Population in Paris.
3. The Parisian Home: From Vertical to Horizontal.
4. Daily Actions in the Privacy of the Home.
5. Elements of Convenience in the Home.
6. Home Decoration.
7. A Look at Spiritual and Cultural Life as seen through Household Objects.
Conclusion.
List of Scholars who contributed to the Preparation of this Work.
Suggested Reading.
Documents.
'The massive documentation, supplemented by some excellent imaginative writing, enables the author successfully to recreate the material texture of life in Paris.' Colin Heywood, University of Nottingham
* An original and comprehensive study of the origins of intimacy and private life in early modern Europe.
* Based on extensive research.
* A fascinating account of life in seventeenth and eighteenth century Paris, the book is also accessible to the general reader.