The Birth of Modern America: 1919 - 1939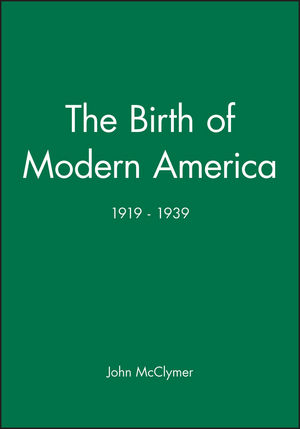 The Birth of Modern America: 1919 - 1939
ISBN: 978-1-881-08900-1
Jul 2005
208 pages
Description
The Birth of Modern America tells in clear and lively prose how Americans struggled with modernity in both its cultural and its economic forms. Richly illustrated, it uses the visual images of the time as evidence of the changes it explores. It is anecdotal as well as analytic, filled with stories about evangelical enthusiasms, amusement parks, the first Miss America contest. It takes the reader into the streets of Tulsa during the race riot of 1921 and into Aimee Semple McPherson's gospel Temple. It examines how ethnic and religious groups appropriated elements of minstrelsy in "The Jazz Singer" and "Amos 'n Andy." In all this makes a strong contribution to understanding American society in the interwar years.
Preface.
Introduction.
Eugenics and the Ku Klux Klan.
Who is an American?.
Minstrelsy and Acculturation.
What Sadie Knew: The Immigrant Working Girl and the Emergence of the Modern Young Woman.
Marketing Fantasy.
Fundamentalism and "the Acids of Modernity.".
"Speaking in Tongues": Sister Aimee McPherson and the Pentecostal Revival.
Popular Culture and the Arts.
A New Deal and a New Policy.
Legacies.