The Birth of Modern Science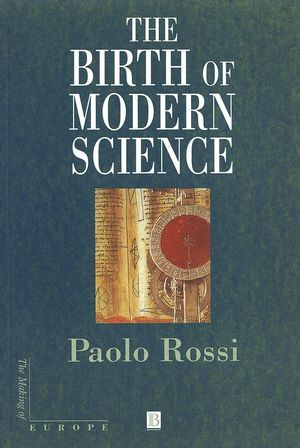 The Birth of Modern Science
ISBN: 978-0-631-22711-3 June 2001 Wiley-Blackwell 288 Pages
Description
This history of the birth of modern science shatters the illusion that science is 'dry' and divorced from culture by exploring the powerful clashes between traditions and value systems that gave rise to it. The author shows how many of the characteristics that distinguish science today emerged in the midst of the wars and plagues of the seventeenth century and defines what was new about this form of knowledge.
Table of contents
Series Editor's Preface by Jacques Le Goff.
Introduction.
1. Obstacles.
2. Secrets.
3. Engineers.
4. The Unseen World.
5. A New Universe.
6. Galileo.
7. Descartes.
8. Countless Other Worlds.
9. Mechanical Philosophy.
10. Chemical Philosophy.
11. Magnetic Philosophy.
12. The Heart and Generation.
13. Time and Nature.
14. Classification.
15. Instruments and Theories.
16. Academies.
17. Newton.
Chronology.
Bibliography.
Index.
Reviews
"Rossi presents in intelligent and informative ways glimpses of the worldviews, concepts, and instruments that are at the root of modern science, and how these came to be ... The book is clearly the work of a scholar who knows his materials and understands what science is all about, making it an eminently good piece of work."
Choice
<!--end-->
"The greatest strength of this work comes out of Rossi's extensive and deep knowledge of the primary sources that he analyzes throughout. His discussions of key texts and of the positions of significant figures are detailed and useful. He provides clear summaries of an impressive number of texts... The nonspecialists targeted as the readers of this work will discover early modern science to be a richly complex and fascinating subject that can be studied with an abundance of primary sources." Pamela O. Long, in Isis
Features


A lively introduction to the birth of modern science exploring clashes between science and tradition.


Covers the key discoveries and experiments that advanced modern science.


Discusses the ideas that accompanied scientific advances, including the effects on religion and the view of God.