The Blackwell Companion to Medical Sociology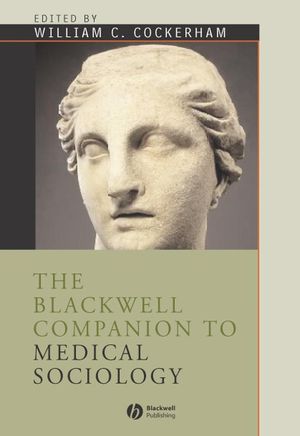 The Blackwell Companion to Medical Sociology
ISBN: 978-1-405-12266-5 October 2004 Wiley-Blackwell 536 Pages
Description
The Blackwell Companion to Medical Sociology is a comprehensive collection of twenty-six original essays by leading medical sociologists from all over the world. The articles are organized both topically and by region to provide thorough coverage of the concerns, issues, and future directions of the discipline. This invaluable resource is the most informed, complete, and up-to-date reference on transnational medical sociology available today.

Covers both substantive areas in medical sociology and regional perspectives located in the Americas, Europe, the Middle East, Asia, and Africa
First comparative perspective to provide a comprehensive view of the field
List of Contributors.
Preface.
Part I: Substantive Topics.
1. Medical Sociology and Sociological Theory: William C. Cockerham.
2. Health and Culture: Stella Quah.
3. The Sociology of the Body: Sarah Nettleton.
4. Health and Social Stratification: Eero Lahelma.
5. Women's Health to a Gender Analysis of Health: Sara Arber and Hilary Thomas.
6. Work Stress and Health: Johannes Siegrist.
7. Migration, Health, and Stress: Judith T. Shuvel.
8. Health Professions and Occupations: Elianne Riska.
9. The Convergence and Divergence of Modern Health Care Systems: Fred Stevens.
Part II: Regional Perspectives.
The Americas.
10. The American Health Care System: Entering the Twenty-first Century with High Risk, Major Challenges, and Great Opportunities: Bernice A. Pescosolido and Carol A. Boyer.
11. The Evolution of Health Care in Canada: Towards Community or Corporate Control?: B. Singh Bolaria and Harley D. Dickinson.
12. Medical Sociology in Mexico: Roberto Castro.
13. Social Science and Health in Brazil: Everardo Duarte Nunes.
Western Europe.
14. Medical Sociology in Great Britain: Ellen Annandale and David Field.
15. The French Paradoxes: Kristina Orfali.
16. Medical Sociology in Germany: Olaf von dem Knesbeck and Johannes Siegrist.
17. Society, Health, and Health Care in Sweden: Örjan Hemström.
Russia and Eastern Europe.
18. The Russian Health Care Experiment: Transition of the Health Care System and Rethinking the Sociology of Medicine: Elena Dmitrieva.
19. In and Out of Communism: The Macrosocial Context of Health in Poland: Nina Ostrowska.
20. Transformation of the Health Care System in the Czech Republic – A Sociological Perspective: Hana Janeckova.
Africa.
21. Health and Health Care in South Africa Against an African Background: H.C.J. van Rensburg and Charles Ngwena.
Middle East.
22. Health, Health Care, and Medical Education in the Arab World: Eugene Gallagher.
23. Health and Health Care in Israel: Ofra Anson.
Asia and the Pacific Region.
24. Medicine and Health Care in Australia: Deborah Lupton.
25. Health, Illness, and Health Policy in Japan: Masahira Anesaki and Tsunetsugu Munakata.
26. The Great Reversal: Transformation of Health Care in the People's Republic of China: Meei-Shia Chen.
Index
"This volume fills a need for a textbook in medical sociology which is comprehensive, international, and up-to-date. A distinguished list of contributors covers not only theory and substantive topics but also the development of the discipline throughout the world. This will remain a definitive text for students and practitioners."
Mildred Blaxter, University of East Anglia

"…This volume is recommended as an authoritative resource in medical sociology for upper division undergraduates through professionals."

Choice

"This is certainly a book that should be in any reputable health studies library. Its bibliographies are an invaluable resource."

Social Science & Medicine

"This book is an important compendium that reflects the global growth of medical sociology. As a collection by international scholars writing about medical sociology and health care in their own countries, this book is destined to become a benchmark resource."

Peter Conrad, Brandeis University

"This text is a useful and valuable resource for students and researchers working in the field of medical sociology." Sociology


Features twenty-six original articles by leading medical sociologists from around the globe


Covers both substantive areas in medical sociology and regional perspectives located in the Americas, Europe, the Middle East, Asia, and Africa


First comparative perspective to provide a comprehensive view of the field