The Blackwell Companion to Phonology, 5 Volume Set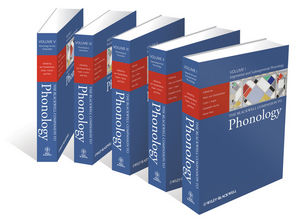 The Blackwell Companion to Phonology, 5 Volume Set
ISBN: 978-1-405-18423-6
Apr 2011, Wiley-Blackwell
3192 pages
Description
Available online or as a five-volume print set, The Blackwell Companion to Phonology is a major reference work drawing together 124 new contributions from leading international scholars in the field.  It will be indispensable to students and researchers in the field for years to come.

Key Features:  
Full explorations of all the most important ideas and key developments in the field
Documents major insights into human language gathered by phonologists in past decades; highlights interdisciplinary connections, such as the social and computational sciences; and examines statistical and experimental techniques
Offers an overview of theoretical positions and ongoing debates within phonology at the beginning of the twenty-first century
An extensive reference work based on the best and most recent scholarly research – ideal for advanced undergraduates through to faculty and researchers
Additional features of the online edition (ISBN: 978-1-4443-3526-2):
Powerful searching, browsing, and cross-referencing capabilities, including Open URL linking, with all entries classified by key topic, subject, place, people, and period
For those institutions already subscribing to Blackwell Reference Online, it offers fully integrated and searchable content with the comprehensive Handbooks in Linguistics series
1: General Issues and Segmental Phonology.
2: Suprasegmental and Prosodic Phonology.
3: Phonological Processes.
4: Phonological Interfaces.
5: Phonology Across Languages.
"All academic libraries supporting high-level work on linguistics, language acquisition, or inter-personal communication should seriously consider both this and the Blackwell Companion to Syntax for acquisition."  (Reference Reviews, 2012)