The Blackwell Companion to Religion and Violence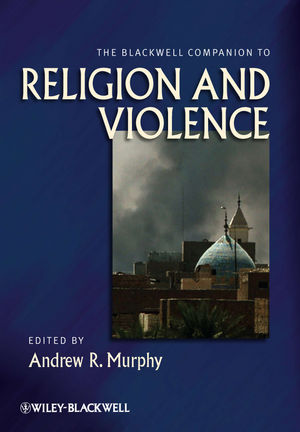 The Blackwell Companion to Religion and Violence
ISBN: 978-1-444-39573-0
Apr 2011, Wiley-Blackwell
632 pages
Description
The timely Blackwell Companion to Religion and Violence brings together an international, interdisciplinary group of scholars who provide a coherent state of the art overview of the complex relationships between religion and violence.
This companion tackles one of the most important topics in the field of Religion in the twenty-first century, pulling together a unique collection of cutting-edge work
A focused collection of high-quality scholarship provides readers with a state-of-the-art account of the latest work in this field
The contributors are broad-ranging, international, and interdisciplinary, and include historians, political scientists, religious studies scholars, sociologists, anthropologists, theologians, scholars of women's and gender studies and communication
Part I. "Religion" and "Violence": Defining Terms, Defining Relationships.
1. Religion and Violence: Coming to Terms with the Terms (John D. Carlson, Arizona State University).
2. The Myth of Religious Violence (William T. Cavanaugh, DePaul University, Chicago).
Part II. Disciplinary Perspectives.
3. An Economic Approach to Religion and Violence (Anthony Gill, University of Washington).
4. Religion, Identity and Violence: Some Theoretical Reflections (Aziz Esmail, Institute of Ismaili Studies, London).
5. An Anthropological Approach to Religion and Violence (Bettina E. Schmidt, Bangor University, Wales).
6. An Evolutionary Perspective: Spiritual Devotion and Self-Annihilation (Ariel Glucklich, Georgetown University).
7. The Sociology of Religious Violence (Charles Selengut, Drew University, New Jersey).
8. Religion, Law and Violence (David E. Guinn, Center for International Development - SUNY).
9. Mediating Religious Violence (Jolyon Mitchell, University of Edinburgh).
10. Look Both Ways: Gender in the Production of Religious and Secular Violence (Janet R. Jakobsen, Barnard College, Columbia University).
11. Explaining Religious Violence: Retrospects and Prospects (Hector Avalos, Professor of Religious Studies, Iowa State University).
Part III. Traditions and Movements, Concepts and Themes.
12. Christianity and Violence (Jonathan Ebel, University of Illinois at Urbana-Champaign).
13. Genesis 34 and the Legacies of Biblical Violence (Elliott Horowitz, Bar Ilan University).
14. Islam and Violence (Beverley Milton-Edwards, Queen's University Belfast).
15. Religion and Violence in Hindu Traditions (Jeffery D. Long, Elizabethtown College).
16. Buddhism and Symbolic Violence (Bernard Faure, Columbia University).
17. Religion, Violence, and Shintō (Walter Skya, University of Alaska-Fairbanks).
18. Confucian Ethical Action and the Boundaries of Peace and War (Don J. Wyatt, Middlebury College).
19. Violence in Chinese Religious Culture (Barend J. ter Haar, University of Leiden, Netherlands).
20. The Dialectic of Violence in Jainism (Christopher Chapple, Loyola Marymount).
21. Just War and Jihad of the Sword (James Turner Johnson, Rutgers University).
22. Jihad and Martyrdom in Classical and Contemporary Islam (David Cook, Rice University).
23. The Psychology of Contemporary Religious Terrorism (James W. Jones, Rutgers University).
24. Pragmatic Responses: the Transformation of Failure and the Spiritualisation of Violence (Ian Reader, University of Manchester).
25. Sacrifice and Violence (Kathryn McClymond, Georgia State University).
26. History, Humiliation, and Religious Violence (Ellen Posman, Baldwin-Wallace College).
27. Reconceptualizing Totalitarianism and Fascism (Robert Imre, University of Newcastle).
Part V. Case Studies: Religion and Violence, Past and Present.
28. Enduring the Sacred Scars of Slavery (Yolanda Pierce, Princeton Theological Seminary).
29. South Asia: From Colonial Categories to a Crisis of Faith? (Yasmin Khan, Lecturer in Politics, Royal Holloway, University of London).
30. Gender, Religion and Violence During the Holocaust (Judith Baumel-Schwartz, Bar-Ilan University).
31. Women in the Sastric Tradition: Colonialism, Law, and Violence (Nandini Bhattacharyya-Panda, Indian Council of Historical Research).
32. Biblical Metaphors, Violent Intervention, and American Identity in the Spanish-American War (Matthew McCullough, Vanderbilt University).
33. Militant Islam, Islamic Law, and National Disintegration in Sudan (Jok Madut Jok, Loyola Marymount University).
34. The Battle for Australia: Salvation and Conquest (Marion Maddox, Macquarie University).
35. Religious-based Violence against Women, and Feminist Responses: Iran, Afghanistan, and Algeria (Valentine M. Moghadam. Purdue University).
36. Anti-Jewish Violence in Late Imperial Russia (Robert Weinberg, Swarthmore College).
37. Religion, Pluralism, and Conflict in the Pacific Islands (Yannick Fer, Groupe Sociétés, Religions, Laïcités).
38. Ritual Violence and Violent Ritual in Chinese Popular Religion (Avron Boretz, The United Board).
39. The Politics of Protestant Violence: Abolitionists and Anti-Abortionists (Joel Olson, Northern Arizona University).
40. Religion and violence in Africa (Ben Jones, University of East Anglia).
41. Rethinking Religion and Politics in the Middle East (Jeroen Gunning, University of Durham).
42. The Rhetoric of Puritan Violence (Andrew R. Murphy, Rutgers University, New Brunswick).
Part VI. Future prospects: Beyond violence?
43. Liberation from Violence (Thia Cooper, Gustavus Adolphus College).
44. Why Nonviolence? The American Tradition (Ira Chernus, University of Colorado at Boulder).
45. Religious Peacebuilding (Maria Pilar Aquino, University of San Diego).
"To conclude, this survey of The Blackwell Companion to Religion and Violence indicates its breadth, and thus its value to those studying the religious ethics of violence and peace, and to those studying violence and peace in other disciplines ... The Companion will spur advanced students and academics to explore methodologies and historical-cultural examples with which they were only passingly familiar." (Studies in Christian Ethics, 1 May 2013)
"This is an important reference work ... Highly recommended: upper-level graduates and above." (
Choice
, 1 December 2011)
"This is a fascinating and enlightening book." (New Directions, 1 November 2011)
"Very impressive ... The contributors write from a variety of perspectives - socio­logical, anthropological, historical, economic - and cover between them a wide range of religious traditions ... Taken together, the chapters in this Companion show how different forms of religious faith (including Christianity) can be distorted, and then inspire acts of brutality and violence ... An indispensable tool for anyone seeking to bring clarity rather than rhetoric to this murky area."   (Church Times, 21 October 2011)
"A curious and voracious reader of the (mostly accessible) essays found in The Blackwell Companion to Religion and Violence will learn a great deal about religion in its various cultural, economic, political and social manifestations, especially as these are related to violence." (The Tablet, 1 October 2011)