The Blackwell Companion to Social Movements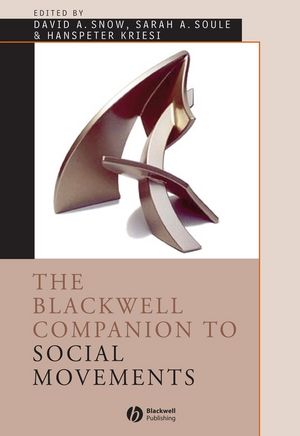 The Blackwell Companion to Social Movements
ISBN: 978-0-470-99910-3
Dec 2007, Wiley-Blackwell
776 pages
Description
The Blackwell Companion to Social Movements is a compilation of original, state-of-the-art essays by internationally recognized scholars on an array of topics in the field of social movement studies.



Contains original, state-of-the-art essays by internationally recognized scholars

Covers a wide array of topics in the field of social movement studies

Features a valuable introduction by the editors which maps the field, and helps situate the study of social movements within other disciplines

Includes coverage of historical, political, and cultural contexts; leadership; organizational dynamics; social networks and participation; consequences and outcomes; and case studies of major social movements

Offers the most comprehensive discussion of social movements available
Contributors.
Acknowledgements.
Part I: Introduction:.
1. Mapping The Terrain: David A. Snow (University Of Arizona), Sarah A. Soule (University Of Arizona), And Hanspeter Kriesi (University Of Zurich).
Part II: Facilitative Contexts and Conditions:.
2.Protest in Time and Space: The Evolution of Waves of Contention: Ruud Koopmans (Wissenschaftszentrum Berlin Für Sozialforschun).
3. The Strange Career of Strain and Breakdown Theories of Collection Action: Steven M. Buechler (Minnesota State University).
4. Political Context and Opportunity: Hanspeter Kriesi (Universität Zürich).
5. The Cultural Contexts of Collective Action: Constraints, Opportunities, and The Symbolic Life Of Social Movements: Rhys H. Williams (University Of Cincinnati).
6.Resources and Social Movement Mobilization: Bob Edwards (East Carolina University) And John D. Mccarthy (The Pennsylvania State University).
Part III: Field of Action and Dynamics:.
7. Beyond the Iron Law: Rethinking the Place of Organizations in Social Movement Research: Elisabeth S. Clemens and Debra C. Minkoff (University Of Chicago; University Of Washington).
8. Leadership in Social Movements: Aldon D. Morris and Suzanne Staggenborg (Northwestern University; Mcgill University).
9. Movement Allies, Adversaries and Third Parties: Dieter Rucht (Wissenschaftszentrum Berlin).
10. Policing Social Protest: Donatella Della Porta and Olivier Fillieule (European University Institute, Florence; University of Lausanne).
11. Bystanders, Public Opinion, and the Media: William A. Gamson (Boston College).
12. "Get Up, Stand Up:" Tactical Repertoires of Social Movements: Verta Taylor and Nella Van Dyke (University of California, Santa Barbara; Washington State University).
13. Diffusion Processes Within and Across Movements: Sarah A. Soule (University of Arizona).
14. Transnational Processes and Movements: Jackie Smith (SUNY Stony Brook).
Part IV: Microstructural and Social Psychological Dimensions:.
15. Networks and Participation: Mario Diani (University of Trento).
16. The Demand and Supply of Participation: Social-Psychological Correlates of Participation in Social Movements: Bert Klandermans (Free University, Amsterdam).
17. Framing Processes, Ideology, and Discursive Fields: David A. Snow (University Of California, Irvine).
18. Emotional Dimensions of Social Movements: Jeff Goodwin, James Jasper and Francesca Polletta (New York University; Independent Scholar; Columbia University).
19. Collective Identity, Solidarity, and Commitment: Scott A. Hunt and Robert D. Benford (University Of Kentucky; Southern Illinois University, Carbondale).
Part V: Consequences And Outcomes:.
20. The Legislative, Organizational, and Beneficiary Consequences of State-Oriented Challenges: Edwin Amenta and Neal Caren (both New York University).
21. Personal and Biographical Consequences: Marco Giugni (University of Geneva).
22. The Cultural Consequences of Social Movements: Jennifer Earl (University of California, Santa Barbara).
23. The Consequences of Social Movements for Each Other: Nancy Whittier (Smith College).
Part VI: Major Social Movements:.
24. The Labor Movement In Motion: Rick Fantasia and Judith Stepan-Norris (Smith College; University Of California, Irvine).
25. Feminism and the Women's Movement: A Global Perspective: Myra Marx Ferree and Carol Mueller (University of Wisconsin; Arizona State University West).
26. Environmental Movements: Christopher Rootes (University of Kent).
27. Antiwar and Peace Movements: Sam Marullo and David S. Meyer (Georgetown University; University Of California, Irvine).
28. Ethnic and Nationalist Movements: Susan Olzak (Stanford University).
29. Religious Movements: Fred Kniss and Gene Burns (Loyola University; Michigan State University).
Index
"It's hard to imagine how this volume could be improved. The organizing framework is terrific and the cast of characters is a virtual 'who's who' of social movement scholars. All in all, a wonderful addition to the bookshelf of any social movement analyst."
Doug McAdam, Stanford University <!--end-->
"A comprehensive survey of the current state of the art in Social Movement Studies, and launch pad for future work. Indispensible."
Colin Barker, Manchester Metropolitan University


Contains 29 original, state-of-the-art essays by internationally recognized scholars

Covers a wide array of topics in the field of social movement studies

Features a valuable introduction by the editors which maps the field, and helps situate the study of social movements within other disciplines

Includes coverage of historical, political, and cultural contexts; leadership; organizational dynamics; social networks and participation; consequences and outcomes; and case studies of major social movements

Offers the most comprehensive discussion of social movements available