The Blackwell Companion to the Bible in English Literature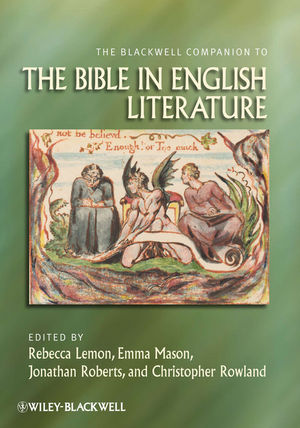 The Blackwell Companion to the Bible in English Literature
ISBN: 978-1-405-13160-5
Apr 2009, Wiley-Blackwell
720 pages
Description
This Companion explores the Bible's role and influence on individual writers, whilst tracing the key developments of Biblical themes and literary theory through the ages.
An ambitious overview of the Bible's impact on English literature – as arguably the most powerful work of literature in history – from the medieval period through to the twentieth-century
Includes introductory sections to each period giving background information about the Bible as a source text in English literature, and placing writers in their historical context
Draws on examples from medieval, early-modern, eighteenth-century and Romantic, Victorian, and Modernist literature
Includes many 'secular' or 'anti-clerical' writers alongside their 'Christian' contemporaries, revealing how the Bible's text shifts and changes in the writing of each author who reads and studies it
Buy Both and Save 25%!
Original Price:$436.90
Purchased together:$327.67
save $109.23
Cannot be combined with any other offers.
List of Contributors ix
Part I Introduction 1
1 General Introduction
Rebecca Lemon, Emma Mason, and Jonathan Roberts 3
2 The Literature of the Bible
Christopher Rowland 10
3 Biblical Hermeneutics and Literary Theory
David Jasper 22
Part II Medieval 39
4 Introduction
Daniel Anlezark 41
5 Old English Poetry
Catherine A. M. Clarke 61
6 The Medieval Religious Lyric
Douglas Gray 76
7 The Middle English Mystics
Annie Sutherland 85
8 The Pearl-Poet
Helen Barr 100
9 William Langland
Sister Mary Clemente Davlin, OP 116
10 Geoffrey Chaucer
Christiania Whitehead 134
Part III Early Modern 153
11 Introduction
Roger Pooley 155
12 Early Modern Women
Elizabeth Clarke 169
13 Early Modern Religious Prose
Julie Maxwell 184
14 Edmund Spenser
Carol V. Kaske 197
15 Mary Sidney
Rivkah Zim 211
16 William Shakespeare
Hannibal Hamlin 225
17 John Donne
Jeanne Shami 239
18 George Herbert
John Drury 254
19 John Milton
Michael Lieb 269
20 John Bunyan
Andrew Bradstock 286
21 John Dryden
Gerard Reedy, S.J. 297
Part IV Eighteenth Century and Romantic 311
22 Introduction
Stephen Prickett 313
23 Eighteenth-Century Hymn Writers
J. R. Watson 329
24 Daniel Defoe
Valentine Cunningham 345
25 Jonathan Swift
Michael F. Suarez, S.J. 359
26 William Blake
Jonathan Roberts and Christopher Rowland 373
27 Women Romantic Poets
Penny Bradshaw 383
28 William Wordsworth
Deeanne Westbrook 397
29 S. T. Coleridge
Graham Davidson 413
30 Jane Austen
Michael Giffin 425
31 George Gordon Byron
Wolf Z. Hirst 438
32 P. B. Shelley
Bernard Beatty 451
Part V Victorian 463
33 Introduction
Elisabeth Jay 465
34 The Brownings
Kevin Mills 482
35 Alfred Tennyson
Kirstie Blair 496
36 The Brontës
Marianne Thormählen 512
37 John Ruskin
Dinah Birch 525
38 George Eliot
Charles LaPorte 536
39 Christina Rossetti
Elizabeth Ludlow 551
40 G. M. Hopkins
Paul S. Fiddes 563
41 Sensation Fiction
Mark Knight 577
42 Decadence
Andrew Tate 587
Part VI Modernist 601
43 Introduction
Ward Blanton 603
44 W. B. Yeats
Edward Larrissy 617
45 Virginia Woolf
Douglas L. Howard 629
46 James Joyce
William Franke 642
47 D. H. Lawrence
T. R. Wright 654
48 T. S. Eliot
David Fuller 667
49 The Great War Poets
Jane Potter 681
Index 696
"An extremely useful volume." (The Year's Work in English Studies, 29 August 2011)
"Probably what comes across most clearly is how, and that, many of the writers chose deliberately to draw on the Bible, and for students increasingly unfamiliar with the Bible, this approach challenges as well as informs." (Reference Reviews, December 2009)
"This is indeed a true companion, one that succeeds in its aim of being both scholarly and accessible to all lovers of English literature. In short, all students of English literature ought to put aside a month to read and study this book before going up to university." (Church Times, August 2009)
An ambitious and interdisciplinary overview of the Bible's role and influence on English literature, from Old English poetry through to T. S. Eliot
Brings together a comprehensive collection of newly-commissioned essays to explore the influence of the Bible on individual writers, whilst tracing the key developments of Biblical themes and literary theory through the ages
Includes introductory sections to each period giving background information about the Bible as a source text in English literature, and placing writers in their historical context
Draws on examples from medieval, early-modern, eighteenth-century and Romantic, Victorian, and Modernist literature
Includes many 'secular' or 'anti-clerical' writers alongside their 'Christian' contemporaries, revealing how the Bible's text shifts and changes in the writing of each author who reads and studies it