The Blackwell Companion to the Economics of Housing: The Housing Wealth of Nations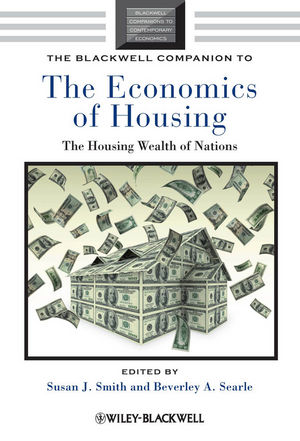 The Blackwell Companion to the Economics of Housing: The Housing Wealth of Nations
ISBN: 978-1-405-19215-6 March 2010 Wiley-Blackwell 648 Pages
Description
The Blackwell Companion to the Economics of Housing will help students and professionals alike to explore key elements of the housing economy: home prices, housing wealth, mortgage debt, and financial risk.
Features 24 original essays, including an editorial introduction and three section overviews

Includes 39 world-class authors from a mix of educational and financial organizations in the UK, Europe, Australia, and North America

Broadly-based, scholarly, and accessible, serving students and professionals who wish to understand how today's housing economy works

Profiles the role and relevance of housing wealth; the mismanagement of mortgage debt; and the pitfalls and potential of hedging housing risk

Key topics include: the housing price bubble and crash; the subprime mortgage crisis in the US and its aftermath; the links between housing wealth, the macroeconomy, and the welfare of home-occupiers; the mitigation of credit and housing investment risks

Specific case studies help to illustrate concepts, along with new data sets and analyses to illustrate empirical points
Chapter 1: Introduction (Susan J. Smith, Beverley A. Searle, and Gareth D. Powells).
Part One: Banking on Housing.
Introduction (Editors).
Chapter 2: Housing and Mortgage markets: An OECD perspective (Nathalie Girouard).
Chapter 3: Is Housing Wealth an 'ATM'?: International Trends (Vladimir Kluyev and Paul Mills).
Chapter 4: Housing Wealth Effects and Course of the US Economy:  Theory, Evidence, and Policy Implications (Eric S. Belsky).
Chapter 5: The rise in house prices and household debt in the United Kingdom: potential causes and implications (Matt Waldron and Fabrizio Zampolli).
Chapter 6: Housing Wealth and Mortgage Debt in Australia (Mike Berry).
Chapter 7: A Survey of Housing Equity Withdrawal and Injection in Australia (Carl Schwartz, Tim Hampton, Christine Lewis and David Norman).
Chapter 8: What do we know about equity withdrawal by households in New Zealand? (Mark Smith).
Chapter 9: What happened to the housing system? (Duncan Maclennan).
Part Two: Housing Wealth as a Financial Buffer.
Introduction (Editors).
Chapter 10: Trading on housing wealth: political risk in an ageing society (Mike Berry and Tony Dalton).
Chapter 11: Housing Equity Withdrawal and Retirement: Evidence from the Household, Income and Labour Dynamics in Australia Survey (HILDA) (Gavin Wood and Christian A. Nygaard).
Chapter 12: Housing Markets, Wealth and 'Self-Insurance' in Spain (Joan Costa-Font, Joan Gill and Oscar Mascarilla).
Chapter 13: Housing wealth: a safety net of last resort? Findings from a European study (Deborah Quilgars and Anwen Jones).
Chapter 14: 'Pots of gold': Housing wealth and economic wellbeing in Australia (Val Colic-Peisker, Guy Johnson and Susan J. Smith).
Chapter 15: Housing Wealth as Insurance:  Insights from the UK (Beverley A Searle and Susan J Smith).
Chapter 16: Housing to manage debt and family care in the USA (Helen Jarvis).
Chapter 17: The Subprime State of Race (Elvin K. Wyly).
Chapter 18: The Housing Finance Revolution (Richard Green and Susan Wachter).
Part Three: Mitigating Housing Risk.
Introduction (Editors).
Chapter 19: How Housing Busts End: House Prices, User Cost and Rigidities During Down Cycles (Karl E. Case and John M. Quigley).
Chapter 20: Is there a Role for Shared Equity Products in Twenty-First Century Housing? Experience in Australia and the UK (Christine Whitehead, and Judith Yates).
Chapter 21: Trading on house price risk:  Index derivatives and home equity insurance (Peter Englund).
Chapter 22: Hedging Housing Risk: A Financial Markets Perspective (Jonathan Reiss, John Blank, Peter Sceats, John Edwards with Susan J Smith).
Creating housing futures: a view from the market (Jonathan Reiss).
Residential property derivatives: exchange-traded futures and options (John Blank).
Residential Property Derivatives: The role and relevance of over-the-counter trading (Peter Sceats).
An interim Solution (John Edwards).
Chapter 23: Hedging Housing Risk: Is it Feasible? (Steve Swidler and  Harris Hollans).
Chapter 24: Housing Risk and Property Derivatives: the Role of Financial Engineering (Juerg Syz).
Chapter 25: Housing Futures: A role for derivatives? (Susan J. Smith).
"The book is a valuable contribution to a range of significant ongoing debates about the role of homeownership and the extent to which this can form the basis of assets-based welfare regimes . . .The present work provides an important step towards the exploration of these wider dimensions."  (Urban Studies, 1 May 2013)
"A valuable addition to the housing, economics, and public policy literature. Highly recommended. Upper-division undergraduate students through professionals." (Choice, 1 March 2011)