The Blackwell Companion to the Qur'an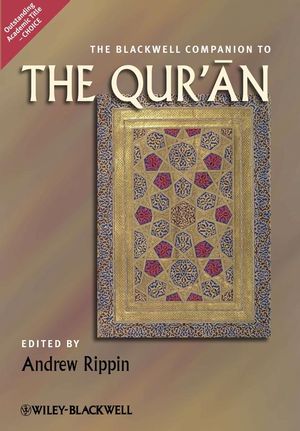 The Blackwell Companion to the Qur'an
ISBN: 978-1-405-17844-0
Apr 2008, Wiley-Blackwell
576 pages
Description
The Blackwell Companion to the Qur'an is a reader's guide, a true companion for anyone who wishes to read and understand the Qur'an as a text and as a vital piece of Muslim life.
Comprises over 30 original essays by leading scholars
Provides exceptionally broad coverage - considering the structure, content and rhetoric of the Qur'an; how Muslims have interpreted the text and how they interact with it; and the Qur'an's place in Islam
Features notes, an extensive bibliography, indexes of names, Qur'an citations, topics, and technical terms
List of Contributors.
Preface (Andrew Rippin).
Part I: Orientation.
1. Introducing (Tamara Sonn).
2. Discovering (Christopher Buck).
3. Contextualizing (Abdullah Saeed).
Part II: Text.
4. Linguistic Structure (Salwa M.S. El-Awa).
5. Patterns of Address (Rosalind Ward Gwynne).
6. Language (Mustansir Mir).
7. Poetry and Language (Navid Kermani).
8. Foreign Vocabulary (Michael Carter).
9. Structure and the Emergence of Community (Angelika Neuwirth).
10. Sacrality and Collection (Aliza Shnizer).
11. Written Transmission (Francois Deroche).
12. Context: Muhammad (Herbert Berg).
13. Context: 'Umar b. al-Khattab (Avraham Hakim).
Part III: Content.
14. God (Andrew Rippin).
15. Prophets and Prophethood (Uri Rubin)].
16. Moses (Brannon Wheeler).
17. Argumentation (Kate Zebiri).
18. Knowing and Thinking (A.H. Mathias Zahniser).
19. Sex, Sexuality, and the Family (Khaleel Mohammed).
20. Jihad (Reuven Firestone).
Part IV: Interpretation.
21. Hermeneutics: al-Tha'labi (Marianna Klar).
22. Stories of the Prophets (Marianna Klar).
23. Sufism (Alan Goldas).
24. Rumi (Jawid Mojaddedi).
25. Twelver Shi I Ta wil (Diana Steigerwald).
26. Isma ili Ta wil (Diana Steigerwald).
Part V: Application.
27. Exegetical Sciences (Jane Dammen McAuliffe).
28. Theology (Binyamin Abrahamov).
29. Jurisprudence (A. Kevin Reinhart).
30. Contemporary Ethical Issues (Leah Kinberg).
31. Narrative Literature (Roberto Tottoli).
32. Recitation (Anna M. Gade).
Bibliography.
Index of People, Places and Topics.
Index of Qur' an Verses.
A Choice Outstanding Academic Title for 2007
"This substantial volume, consisting of 30 original essays on the Qur'an by leading authorities in the field, is undoubtedly the best single-volume introduction to Islam's sacred text currently available in English … The editor has done a superb job in putting together a volume of generally high-quality essays that will serve the needs of a serious reading public, and also constitute an ideal text for introductory courses on the Qur'an at the university and college level. Essential." Choice<!--end-->

"This scholarly publication should be available in all academic libraries"
The Muslim World Book Review

"Rippin has kept his feet on the ground with this impressive collection of some 30 analyses of contemporary – mainly exegetical – issues associated with Qur'anic studies."
Reference Reviews

"A thorough, scholarly introduction to the complexities of the Qur'an as both a religious text and as a work of literature."
Middle East Journal

"These articles cover important and understudied traditions of quranic exegesis." Bulletin of the school of Oriental and African Studies


Offers a true companion for anyone who wishes to read and understand the Qur'an as a text and as a vital piece of Muslim life

Comprises over 30 original essays by leading scholars

Provides exceptionally broad coverage - considering the structure, content and rhetoric of the Qur'an; how Muslims have interpreted the text and how they interact with it; and the Qur'an's place in Islam

Features notes, an extensive bibliography, indexes of names, Qur'an citations, topics, and technical terms