The Blackwell Companion to the Study of Religion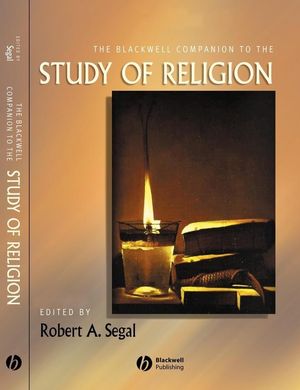 The Blackwell Companion to the Study of Religion
ISBN: 978-1-405-18598-1 September 2008 Wiley-Blackwell 492 Pages
Description
This prestigious Companion offers the most comprehensive survey to date of the study of religion. Featuring a team of international contributors, and edited by one of the most widely respected scholars in the field,
The Blackwell Companion to the Study of Religion
provides an interdisciplinary and authoritative guide to the subject.


Examines the main approaches to the study of religion: anthropology, the comparative method, economics, literature, philosophy, psychology, sociology, and theology.

Also covers a diverse range of topical issues, such as the body, fundamentalism, magic, and new religious movements

Consists of 24 essays written by an outstanding team of international scholars

Reviews, within each chapter, an outline of a particular subfield and traces its development up to the present day

Debates how the discipline may look in the future

Represents all the major issues, methods and positions in the field
Table of contents
List of Contributors.
Introduction: Robert A. Segal.
Part I: Approaches.
1. Anthropology of Religion: Fiona Bowie(University of Bristol).
2. The Comparative Method: Paul Roscoe(University of Maine).
3. An Economics of Religion: Rodney Stark (University of Washington).
4. Literature and Religion: Stephen Prickett (Baylor University).
5. Phenomenology of Religion: Thomas Ryba (Purdue University).
6. Philosophy of Religion: Charles Taliaferro (St Olaf College).
7. Psychology of Religion: Roderick Main (University of Essex).
8. Sociology of Religion: Grace Davie (University of Exeter).
9. Theology: Ian Markham (Hartford Seminary).
Part II: Topics.
10. Body: Richard H. Roberts (Stirling University).
11. Death and Afterlife: Douglas J. Davies (University of Durham).
12. Ethics: G. Scott Davis (University of Richmond).
13. Fundamentalism: Henry Munson (University of Maine).
14. Heaven and Hell: Jeffrey Burton Russell (University of California at Santa Barbara).
15. Holy Men/Holy Women: Lawrence S. Cunningham (University of Notre Dame).
16. Magic: Gustavo Benavides (Villanova University).
17. Modernity and Postmodernity: Colin Campbell (University of York).
18. Mysticism: Jeffrey J. Kripal (Rice University).
19. Myth: Robert A. Segal (University of Aberdeen).
20. Nationalism and Religion: Mark Juergensmeyer (University of California at Santa Barbara).
21. New Religious Movements: Lorne L. Dawson (University of Waterloo).
22. Pilgrimage: Simon Coleman (University of Durham).
23. Ritual: Catherine Bell (Santa Clara University).
24. Secularization: Steve Bruce (University of Aberdeen).
Consolidated Bibliography.
Index
Reviews
"Its value for students of religion is that it embraces a comparative approach to the discipline of religious studies, presenting a diversity of perspectives without favoring one over the other, while at the same time raising critical questions about the limits of each approach." (
Teaching Theology and Religion
, July 2010)
"Today's world is in crying need of an understanding of 'religion', as well as specific religious traditions. This volume, expertly edited and introduced by Segal, admirably fulfills this need with a series of essays that combine clarity and accessibility with nuance and balance … The 25 essays in this collection are uniformly of high quality, each with a helpful bibliography that supplements the volume bibliography… this work will command a wide audience, ranging from the general public to religious studies specialists. Highly recommended; all libraries; all levels."
CHOICE
"This is an excellent volume of papers about the study of religion both in conception and execution … Robert Segal has done a marvelous job in editing the volume and providing a bibliography and index … a very useful, well constructed and interesting book that should be widely read and used on courses." British Association for the Study of Religions Bulletin
"A useful addition to the growing collection of compendia on theory and method ... a solid, provocative, and largely productive set of essays." Journal of Contemporary Religion
"This is a work that can be used in many ways – as a companion to the study of religion, as a commentary on the place of the study of religion in a largely secular and cross-cultural world, as a guide to various interdisciplinary approaches to the study of religion, as an insight into key writers in the modern historiography of the subject, as a snapshot of different topics, and as a reference work to some of the key figures. These uses will make the book suitable for different types of library and research setting … These are not essays assembled in a hit-and-miss way simply to earn a fast buck and satisfy research assessment exercise criteria: they are relevant and part of a coherent body of work here. It puts the case (if that is necessary) that the study of religion is now a discipline in its own right." Reference Reviews

What's New


Examines the main approaches to the study of religion: anthropology, the comparative method, economics, literature, philosophy, psychology, sociology, and theology.

Also covers a diverse range of topical issues, such as the body, fundamentalism, magic, and new religious movements

Consists of 24 essays written by an outstanding team of international scholars

Reviews, within each chapter, an outline of a particular subfield and traces its development up to the present day

Debates how the discipline may look in the future

Represents all the major issues, methods and positions in the field