The Blackwell Companion to the Theologians, 2 Volume Set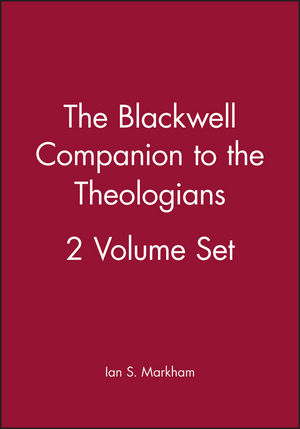 The Blackwell Companion to the Theologians, 2 Volume Set
ISBN: 978-1-405-13507-8
Apr 2009, Wiley-Blackwell
1008 pages
Description
This two-volume companion brings together a team of contemporary theologians and writers to provide substantial introductions to the key people who shaped the Christian story and tradition.
A substantial two-volume reference work, bringing together over 75 entries on the most important and influential theologians in the history of Christianity
Structured accessibly around five periods: early centuries, middle ages, reformation period, the Enlightenment, and the twentieth-century to the present
A to Z entries range from substantial essays to shorter overviews, each of which locates the theologian in their immediate context, summarizes the themes of their work, and explains their significance
Covers a broad span of theologians, from Augustine to Thomas Aquinas, through to C. S. Lewis, James Cone, and Rosemary Radford Reuther
Provides profiles of key Catholic, protestant, evangelical, and progressive theologians
Includes a useful timeline to orientate the reader, reading lists, and a glossary of key terms
VOLUME I
Notes on Contributors.
Preface.
Acknowledgments.
Timeline.
Early Centuries.
Apocalypse of John.
Arius (c.256–336).
Athanasius (c.295–373).
Augustine of Hippo (c.354–430).
Boethius (c.475–c.524).
Cappadocians (c.329–c.524).
Cyril of Alexandria (c.378–444) and Nestorius of Constantinople (c.381–c.451).
Ephrem the Syrian (c.306–73).
Ignatius of Antioch (c.35–c.110).
Irenaeus of Lyons (2nd century).
John the Evangelist.
Marcion (c.85–c.160).
Maximos the Confessor (580–662).
Origen (c.185–254).
The Apostle, Paul.
Synoptic Evangelists: Mark, Matthew, and Luke.
Tertullian (c.155–c.225).
Middle Ages.
Peter, Abelard (1079–1142).
St Anselm of Canterbury (1033–1109).
Thomas, Aquinas (c.1224–74).
Bernard of Clairvaux (1090–1153).
Bonaventure (c.1217–74).
Duns Scotus (c.1266–1308).
Julian of Norwich (1342–c.1416).
William, Ockham (c.1280–c.1349).
Reformation Period.
John, Calvin (1509–64).
Richard, Hooker (1554–1600).
Martin, Luther (1483–1546).
Philip, Melanchthon (1497–1560).
Reformation.
Teresa of Ávila (1515–82).
Glossary.
Index.
VOLUME II
Notes on Contributors.
Preface.
Acknowledgments.
Timeline.
Enlightenment and Modern Period.
Baillie, Donald (1887–1954).
Baillie, John (1886–1960).
Barth, Karl (1886–1968).
Brunner, Emil (1889–1966).
Darby, John Nelson (1800–1882).
Florovsky, Georges Vasilievich (1893–1979).
Hegel, Georg Wilhelm Friedrich (1770–1831).
Kant, Immanuel (1724–1804).
Kierkegaard, Søren (1813–55).
Lewis, C. S. (1898–1963).
Newman, John Henry (1801–90).
Niebuhr, Reinhold (1892–1971).
Schleiermacher, Friedrich Daniel Ernst (1768–1834).
Thomasius, Gottfried (1802–75).
Tillich, Paul (1886–1965).
Warfield, B. B. (1851–1921).
Twentieth Century to Present.
Balthasar, Hans Urs von (1905–88).
Black Theology.
Bonhoeffer, Dietrich (1906–45).
Beaurecueil, Serge Laugier de (1917–2005).
Cone, James (1938– ).
Farrer, A. M. (1904–68).
Frei, Hans (1922–88).
Gunton, Colin (1941–2003).
Gutiérrez, Gustavo (1928– ).
Hauerwas, Stanley (1940– ).
Hick, John (1922– ).
Johnson, Elizabeth A. (1941– ).
King, Jr., Martin Luther (1929–68).
Liberal Theology.
Lindbeck, George (1923– ).
MacKinnon, Donald (1913–94).
Milbank, John (1952– ).
Moltmann, Jurgen (1926– ).
Neuhaus, Richard John (1936– ).
Packer, James (1926– ).
Pannenberg, Wolfhart (1928– ).
Price, Charles Philip (1920–99).
Process Theology.
Rahner, Karl (1904–84).
Ruether, Rosemary Radford (1936– ).
Schussler Fiorenza, Elisabeth (1938– ).
Solle, Dorothee (1929–2003).
Swinburne, Richard Granville (1934– ).
Vatican II.
Ward, Keith (1938– ).
Glossary.
Index.
"The work's audience is "the student who is taking introductory classes in theology," though a resource as distinctive and informative as this quickly will prove its usefulness to others as well." (
CHOICE,
December 2009)
"Worth the money, intellectually sound, and well targeted." (
Reference Reviews
, January 2010)
"It stands out as an excellent resource for anyone interested in the development of theology." (Theological Librarianship, December 2009)
"Care has been taken to ensure that theologians from all periods of Christian history have been included and that Catholic, Protestant, Evangelical, liberal, and feminist perspectives are represented." (Booklist, November 2009)
"The Blackwell Companion to the Theologians nicely complements existing reference works and is an appropriate addition to theological and research libraries as well as libraries with strong collections in Christianity." (Religion and Spirituality, November 2009)
A substantial two-volume reference work, bringing together over 75 entries on the most important and influential theologians in the history of Christianity
Structured accessibly around five periods: early centuries, middle ages, reformation period, the Enlightenment, and the twentieth-century to the present
A to Z entries range from substantial essays to shorter overviews, each of which locates the theologian in their immediate context, summarizes the themes of their work, and explains their significance
Covers a broad span of theologians, from Augustine to Thomas Aquinas, through to C. S. Lewis, James Cone, and Rosemary Radford Reuther
Provides profiles of key Catholic, protestant, evangelical, and progressive theologians
Includes a useful timeline to orientate the reader, reading lists, and a glossary of key terms