The Blackwell Dictionary of Eastern Christianity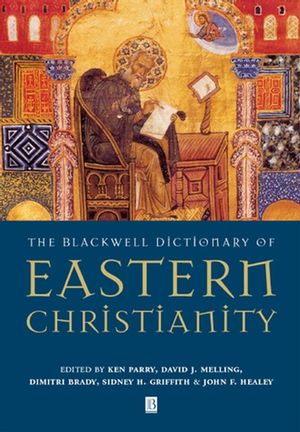 The Blackwell Dictionary of Eastern Christianity
ISBN: 978-0-631-18966-4 November 2000 Wiley-Blackwell 604 Pages
Description
Containing over 700 articles, this Dictionary allows the reader to explore Eastern Christian civilization with its cultural and religious riches. The articles are written by a team of 50 international contributors, including leading historians, theologians, linguists, philosophers, patrologists, musicians, and scholars of liturgy and iconography.
List of Contributors.
Preface.
The Book and How to Use It.
Introduction.
Dictionary Entries A-Z.
Index.
"It includes almost 700 entries in a manageable volume that provides both a handy basis for study and a readable source for browsing ... Its major success results from the way in which it combines together information about all the churches of the Eastern traditions, and so allows their similarities and differences of thought, practice and history to be discerned ... This is a work that will be of use and interest to both specialist researchers and student readers, and it should be welcomed onto the shelves of both scholars and librarians."
Islam and Christian Muslim Relations
"The Dictionary is a valuable resource intended not only for students and scholars, but for anyone interested in Eastern Christianity. It will open up a new Christian world to the beginner, and extend the knowledge of those already acquainted with the Eastern Churches." Theology

"There is a high level of scholarship for all the entries which makes this Dictionary a reliable reference work." Adamantius, Newsletter of the Italian Research Group on "Origen and the Alexandrian Tradition"

"All libraries should have this handy volume." International Review of Biblical Studies

"There is plenty here to learn and inspire." European Journal of Theology

"...for matters liturgical, historical, and theological relating to the eastern churches, from ancient times to the present it has no equal. The longer articles covering the history of various national churches, geographical regions, and missions are excellent." Theology Today


Written by an international team of 50 leading scholars from a variety of subject disciplines.


Surveys the history and diversity of Eastern Christianity.


Includes over 700 articles.