The Blackwell Dictionary of Political Science: A User's Guide to Its Terms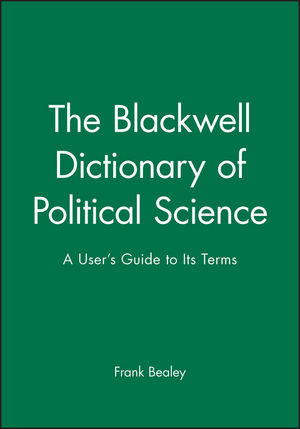 The Blackwell Dictionary of Political Science: A User's Guide to Its Terms
ISBN: 978-0-631-20695-8 August 1999 Wiley-Blackwell 396 Pages
Description
The Blackwell Dictionary of Political Science provides students and general readers with a clear and lively introduction to the terminology of political science.
Table of contents
Preface.
Dictionary Entries A-Z.
Biographical Sketches: A Related Political Science Who's Who.
Index.
Reviews
" This scholarly work defines 1,000 words and phrases in political science. The entries are lengthy for a dictionary, averaging half a page. An interesting feature id the subject index, which indentifies all pages where particular terms are used."
K. F. Muther, California State University, Sacramento
<!--end-->
"This handy reference book provides a clear and lively introduction to terminology that is common to several social science classes at the Secondary Level ... The layout is very effective and allows easy access to the short definitions." Saskatchewan Education
What's New
* Single authored dictionary providing comprehensive and coherent definitions.
* Written by a senior political scientist who has teaching experience.
* In addition to key terms, the dictionary includes biographies of the most important writers in the discipline.