The Blackwell Dictionary of Western Philosophy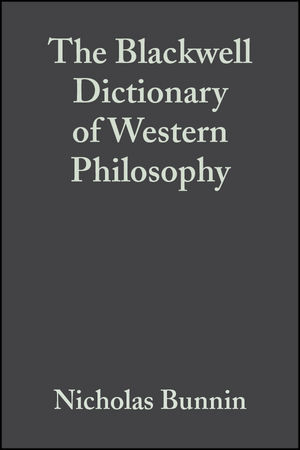 The Blackwell Dictionary of Western Philosophy
ISBN: 978-1-405-10679-5 October 2004 Wiley-Blackwell 776 Pages
Description
The Blackwell Dictionary of Western Philosophy is a concise reference to the whole history of western philosophy, from ancient Greece to the present day.

Spans all the major branches of western philosophical inquiry, all of the key figures

Explains the meaning and usage of each philosophical concept in a fresh and engaging style

Each entry on philosophical terms concludes with an illustrative quotation from a significant philosopher, to enhance the reader's understanding

Entries on terms and individual philosophers are fully cross-referenced

Co-written by the editor of the popular volume The Blackwell Companion to Philosophy (Second Edition, 2002)
Preface.
Dictionary.
References
"Its entries manage to avoid the obscurities of an exaggerated brevity without stretching themselves out as if seeking to embody whole miniature essays. In short it presents itself as a model of clarity and clarification."
Alan Montefiore, Balliol College, Oxford
"The style is fresh and engaging, and it gives a broad and accurate picture of the Western philosophical tradition. It is a pleasure to browse in even if one is not looking for an answer to a particular question." David Pears

"The book makes for interesting browsing, and there is a lot of information to be found in it." Analytic Teaching

"People studying philosophy- at higher levels of school and college and lower levels of university- will find the coverage here highly satisfying. Value for money of the best kind." Reference Reviews


A concise A-Z reference to the whole history of western philosophy, from ancient Greece to the present day

Spans all the major branches of western philosophical inquiry, all of the key figures

Explains the meaning and usage of each philosophical concept in a fresh and engaging style

Each entry on philosophical terms concludes with an illustrative quotation from a significant philosopher, to enhance the reader's understanding

Entries on terms and individual philosophers are fully cross-referenced

Co-written by the editor of the popular volume The Blackwell Companion to Philosophy (Second Edition, 2002)