The Blackwell Encyclopedia of Modern Christian Thought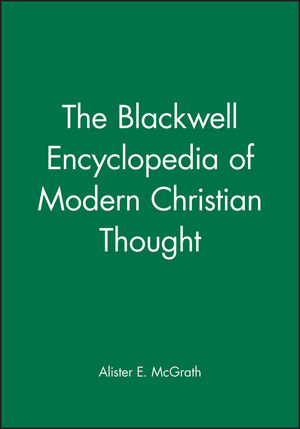 The Blackwell Encyclopedia of Modern Christian Thought
ISBN: 978-0-631-19896-3
Dec 1995, Wiley-Blackwell
720 pages
Description
The Blackwell Encyclopedia of Modern Christian Thought is an authoritative and readable reference source for all interested in the development of Christian though from the dawn of the Enlightenment to the present day.
Preface.
Introduction.
Contributors.
Dictionary Entries A-Z.
"This encyclopedia ... is refreshingly different ...(it) sets out to be an authoritative, readable and reliable reference source for the main features of modern Christian thought... Of all the dictionaries I have explored recently, this is by far the most useful. It delivers what it promises. Dr McGrath is to be congratulated."
Scottish Journal of Theology
"Theology is indebted to Alister McGrath for masterminding what is an absorbing, challenging and first-class encyclopedia. From beginning to end, it is characterized by lucidity and authority. As a one-volume encyclopedia, an easy reference guide, this book is hard to beat." Reviews in Religion and Theology
"Ultimately, this encyclopedia succeeds because it is so much better than its rivals ... a precious resource." Theology
"This is an extremely valuable book that should be in any reference library and will be welcomed also by non-specialists who want to get a handle on the directions and confusions of contemporary Christian thought." First Things
"It is remarkably comprehensive for its size. The numerous entries provide a uniformly good and concise introduction into a subject...alphabetical organization of the volume by subject combined with an extensive key-word index makes the encyclopedia easy to use...[it] is a useful and reliable reference tool for those entering into the study of modern Christian thought." James C. Deming, Princeton Theological Seminary
Clear, comprehensive account of the Reformation Movements across Europe.

Includes suggestions for further reading and a guide to further study.

Text supported by maps, illustrations, a glossary, chronologies and genealogies.