The Blackwell Encyclopedia of the Russian Revolution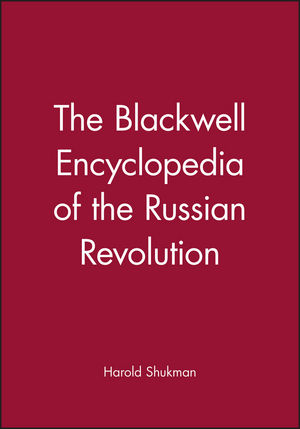 The Blackwell Encyclopedia of the Russian Revolution
ISBN: 978-0-631-19525-2 December 1994 Wiley-Blackwell 444 Pages
Description
This single volume is an authoritative and accessible guide to the background and progress of the Revolution, written by a team of over forty specialist contributors. Beginning with the radical movements of the mid-nineteenth century, the Encyclopedia covers the development of the revolutionary movement created by the intelligentsia; the condition of the peasants, that of the working class, and of the army; the role of the Tsarist secret police; the 'agents provocateurs'; the revolutionaries' own underground. A substantial section is devoted to the emergence of liberation movements among the national minorities of the borderlands. The Encyclopedia also considers the formation of Soviet institutions, and examines too the emergence of revolutionary culture well before 1917, the avant-garde in art and theatre, and the relationship to the revolution of three major Russian writers, Blok, Gorky and Mayakovsky.
Preface.
Acknowledgements.
List of Contibutors.
Editorial Notes.
Part I: .
Introduction.
Historical Interpretations of the Revolution.
The Revolutionary Movement.
The Road To Revolution.
1917 and After: Political Developments.
Post-October Institutions.
Spreading the Revolution.
The Cultural Impact of the Revolution.
Part II: .
Bibliographies A-Z.
Index.
"Well written and richly illustrated, The Blackwell Encyclopedia of the Russian Revolution can be read as a concise, authoritative, account of events that have profoundly influenced the course of twentieth-century history."
Richard Pipes, Times Literary Supplement
"A distillation of the best in recent scholarship on the Russian Revolution." International History Review
"Strongly recommended for both public and academic libraries at all levels." Choice
"A treasure house of information ..." Times Educational Supplement
* Only one-volume encyclopedia in English on this event.
* Authoritative articles on all aspects of the background, events and aftermath.
* Alphabetical listing and notes on major characters involved.
* c.80 illustrations.