The Blackwell Guide to Business Ethics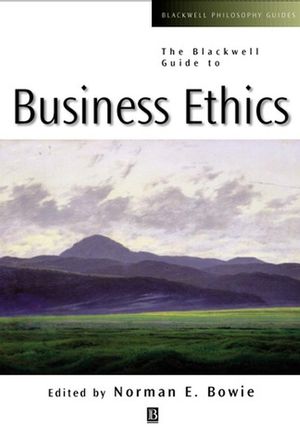 The Blackwell Guide to Business Ethics
ISBN: 978-0-631-22123-4 February 2002 Wiley-Blackwell 376 Pages
Download Product Flyer
Download Product Flyer
Download Product Flyer is to download PDF in new tab. This is a dummy description. Download Product Flyer is to download PDF in new tab. This is a dummy description. Download Product Flyer is to download PDF in new tab. This is a dummy description. Download Product Flyer is to download PDF in new tab. This is a dummy description.
Description
The Blackwell Guide to Business Ethics, written by international experts in the field, acquaints the reader with theoretical and pedagogical issues, ethical issues in the practice of business and exciting new directions in the field.
Table of contents
Notes to Contributors.
Introduction: Norman E. Bowie (University of Minnesota).
Part I: Theoretical and Pedagogical Issues:.
1. Stakeholder Theory: The State of the Art: Thomas M. Jones and Andrew C. Wicks (University of Washington), and R. Edward Freeman (University of Virginia).
2. Ethics and Corporate Governance: Justifying the Role of Shareholder: John R. Boatright (Loyola University of Chicago).
3. Untangling the Corruption Knot: Global Bribery Viewed through the Lens of Integrative Social Contract Theory: Thomas W. Dunfee and Thomas J. Donaldson (University of Pennsylvania).
4. The Regulatory Context of Environmental Workplace Health Protections: Recent Developments: Carl Cranor (University of California).
5. Moral Reasoning: Manuel Velasquez (Santa Clara University).
6. Teaching and Learning Ethics by the Case Method: Kenneth E. Goodpaster (University of St. Thomas).
Part II: Ethical Issues in the Practice of Business:.
7. Ethical Issues In Accounting: Mary Beth Armstrong (Polytechnic State University).
8. Marketing Ethics at the Millennium: Review, Reflections, and Recommendations: Patrick E. Murphy (University of Notre Dame).
9. Ethical Issues in Selling and Advertising: Thomas L. Carson (Loyola University of Chicago).
10. Ethical Issues in Financial Services: Ronald F. Duska (American College) and James J. Clarke (Villanova University).
11. Ethical Issues in Human Resources: Daryl Koehn (University of St. Thomas).
12. Environmental Responsibility: Joseph R. Desjardins (College of St. Benedict).
Part III: New Directions:.
13. Ethical Issues in Information Technology: Richard T. De George (University of Kansas).
14. Business Ethics, Organization Ethics, and Systems Ethics for Health Care: Patricia H. Werhane (University of Virginia).
15. The Ethical Dilemmas of the Biotechnology Industry: Lisa H. Newton (Fairfield University).
16. Trust and the Future of Leadership: Joanne B. Ciulla (University of Richmond).
Index.
Reviews
"This book engages the widest possible spectrum of readers; from those simply curious about the business ethics enterprise to veteran scholars steeped in the literature. The contributors are to be complimented for the seriousness of each essay and the novel insights they bring to familiar territory. Bowie is to be commended for organizing the efforts of many of the best minds in the field in such a way that their thinking will aid in research and teaching alike."
Ed Soule, Georgetown University
<!--end-->
"In The Blackwell Guide to Business Ethics Norman Bowie has put together a guided tour of business ethics, providing the reader with both a solid review of past debates and current theories, and a provocative preview of future issues and practical challenges." Joshua Margolis, Harvard Business School

"In this thoughtful and well-balanced collection of articles, Bowie has addressed some of the most important theoretical and practical issues in business ethics through original insights from many of the field's leading scholars. This work will be a great boost in moving business ethics forward in the twenty-first century." W. Michael Hoffman, Bentley College

"This masterful synthesis of theory and practice in business ethics provides insight into the role of ethics in present-day business practice. The book also offers intriguing perspectives on new directions for an evolving field." Diana C. Robertson, Goizueta Business School, Emory University
Features


Features newly commissioned essays by an international assembly of experts in the field.


Provides the foundation for understanding the impact of technology and globalization on the business world.


Includes discussion of pressing current issues such as the ethics behind healthcare and the genetic revolution.