The Blackwell Guide to Epistemology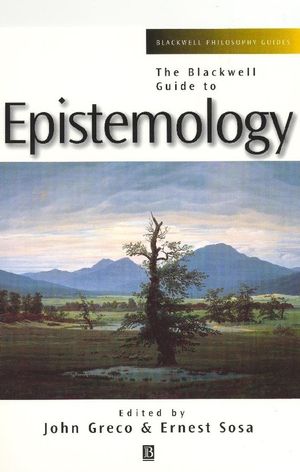 The Blackwell Guide to Epistemology
ISBN: 978-0-631-20291-2 January 1999 Wiley-Blackwell 476 Pages
Description
Written by an international assembly of leading philosophers, this volume includes seventeen newly-commissioned full-length survey articles on the central topics of epistemology.
Table of Contents.
Contributors.
Preface.
Introduction: What is Epistemology? John Greco (Fordham University).
Part I: Traditional Problems of Epistemology.
1. Scepticism: Michael Williams (Northwestern University).
2. Realism, Objectivity and Scepticism: Paul K. Moser (Loyola University of Chicago).
3. What is Knowledge? Linda Zagzebski (Loyola Marymount University).
4. The Dialectic of Foundationalism and Coherentism: Laurence BonJour (University of Washington).
Part II: The Nature of Epistemic Evaluation.
5. Skepticism and the Internal/External Divide: Ernest Sosa (Brown University).
6. In Defence of a Naturalised Epistemology: Hilary Kornblith (University of Vermont).
7. Methodological Naturalism in Epistemology: Richard Feldman (University of Rochester).
8. Contextualism: an Explanation and Defence: Keith DeRose.
9. Rationality: Keith Lehrer (University of Arizona).
Part III: Varieties of Knowledge.
10. Perceptual Knowledge: William Alston (Syracuse University).
11. The A Priori: George Bealer (University of Colorado).
12. Moral Knowledge and Ethical Pluralism: Robert Audi (University of Nebraska).
13. Epistemology of Religion: Nicholas Wolterstorff (Yale University).
Part IV: New Directions.
14. Feminist Epistemology: Helen Longino (University of Minnesota).
15. Social Epistemology: Frederick Schmitt (University of Illinois at Urbana-Champaign).
16. Procedural Epistemology - At the Interface of Philosophy and AI: John L. Pollock (University of Arizona).
17. Hermeneutics as Epistemology: Merold Westphal (Fordham University).
Select Bibliography by Topic.
Index.
"An excellent guide to the central issues in epistemology. This volume will prove to be a valuable resource for the expert and non-expert alike." Stewart Cohen, Arizona State University
* Comprised of seventeen newly-commissioned essays by leading scholars.
* Concludes with a provocative examination of new directions and alternative voices in epistemology.
* Represents an authoritative review and unparalleled philosophical resource into the nature, possibility and legitimacy of epistemology.